Northern Navajo Medical Center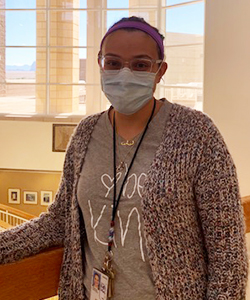 I am one of the PGY-2 Ambulatory Care residents at Northern Navajo Medical Center, which is made up of 55 inpatient beds, a variety of outpatient clinics, pharmacy services, and emergency services providing care for Native Americans in the four-corners region.
Navajo Nation covers about 27,000 square miles across Arizona, New Mexico and Utah with approximately 175,000 residents. Though rural, COVID-19 has spread rapidly throughout Navajo Nation surpassing the infection rate in several hot-spots, including the state of New York at its peak. Most rural areas of the United States have had minimal cases, so what makes Navajo Nation different?
First, social distancing and lockdowns are much more difficult to execute. It is reported that up to one-third of the residents on Navajo Nation are without electricity and running water. The issue of electricity forces patrons to go out to get food since they are unable to store perishables. Additionally, they must go out for drinking water. Lack of water also leads to sanitary challenges. How can you follow CDC-recommended hand-washing techniques if you do not have running water?
Second, family is vitally important to the Navajo people. Most of the people on the reservation live in multigenerational homes where grandparents, parents, children, and grandchildren are all under the same roof. Therefore, if one member of the family contracts the virus, it is easily spread to 5-10 people. Our outdoor car clinics commonly see a carful of patients coming in to get tested. Outside of immediate family members within their homes, traditional family gatherings often include other members of their clan who could be traveling from all corners of Navajo Nation. When COVID-19 makes its way to one of these gatherings, it spreads quickly and across the entire area.
Several efforts have been made to help prevent the spread of the virus including mandatory masks and daily curfews. Daily curfews begin at 8 pm and are lifted at 5 am the following morning. Additionally, 57-hour weekend lockdowns were implemented for the last 8-10 weeks closing all business (including those noted as essential) with the curfew starting at 8 pm on Friday evening and ending at 5 am Monday morning.
The last several months have been difficult, but the Navajo people pride themselves on being resilient. We have seen people come together to make masks for essential workers and one of our pharmacy technicians has led an effort to build hand-washing stations from donated empty laundry detergent containers. A light has been shed on the daily struggles for the people of Navajo Nation and I am hopeful that we will come out stronger on the other side of this pandemic.
Leeanne Mobayed is a PGY-2 ambulatory care resident at Northern Navajo Medical Center in Shiprock, NM.
Posted April 1, 2021