Beth Israel Deaconess Medical Center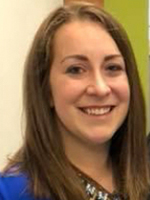 In March 2020, when the COVID-19 pandemic escalated drastically, we accordingly shifted patient care from our gastroenterology clinic and Beth Israel Deaconess Medical Center in Boston to telehealth services from our homes. While at home, I realized that language from the CDC and the media was undoubtedly making our patients uneasy about taking immunosuppressive medications for their Crohn's disease and ulcerative colitis. Despite guidance from the Crohn's and Colitis Foundation and inflammatory bowel disease (IBD) specialists, our clinic received multiple calls from worried patients.
As the clinic pharmacist, I knew I could make the most impact with proactive outreach. I began to contact our IBD patients on biologics and tofacitinib individually because discontinuation of any of these medications could lead to recurrence of disease, flares, and potentially hospitalization. Since older individuals are more likely to have worse prognoses if infected with COVID-19, I contacted them first.
My conversations with our patients – young and old - revealed fears of continuing their immunosuppressive medications. The most impactful discussions weighed the risks and benefits of continuing on treatment, the guidelines from IBD experts, and CDC precautions. In reviewing this effort, I found that patient concerns and actions generally fell into one of three categories:
1) Patients who discontinued or delayed their treatment due to fears of infection - These patients self-discontinued their medications based on the information they saw primarily on the news. Patients on infusion therapy were particularly fearful of coming in for their treatment and delayed or cancelled their appointments. By contacting these patients and monitoring the dates of their infusion appointments, I was able to influence them to stay on therapy and/or find them an alternative infusion site outside of Boston. A few patients in this category consequently had disease recurrence. By focusing on expert recommendations and in-depth risk/benefit analysis they eventually agreed to restart.
2) Patients who were compliant to treatment but did not contact the clinic with worsening symptoms due to fears of visiting a medical facility - Many in the medical community have voiced their concerns about patients who are not seeking medical help that is not related to COVID-19. Our patients in this category stayed on therapy, but did not reach out if their IBD symptoms recurred. Calls with these patients focused on CDC precautions, education on telehealth services, and the importance of communication. After consulting with these patients' providers, therapy changes or dose adjustments were often made without the need for an in-person visit.
3) Patients who likely would have discontinued therapy without intervention - Many patients had concerns and were unsure what to do regarding their medication. I was able to speak to them prior to their next scheduled dose, and we were able to discuss their fears. Most patients agreed to continue therapy after our discussion. Without the proactive outreach, many of these patients may have self-discontinued.
While this is a summary of my experience at one patient clinic, the stories shared here are not unique. Patients with many different diseases states may have these same concerns. As the pandemic continues, pharmacists have the unique opportunity to communicate with patients and collaborate with providers to ensure that worse health outcomes do not occur during this crisis.
Marie D'Angelo, PharmD, is an ambulatory care pharmacist, gastroenterology, at Beth Israel Deaconess Medical Center.
Posted April 1, 2021