Holy Name Medical Center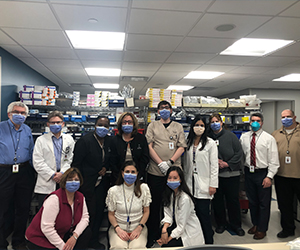 On March 16, 2020, my community hospital had seven positive or suspected COVID-19 patients in our medical ICU of 19 beds (with a typical census rarely above 12 and less than half that number on ventilators at any time). Several more patients were being held in isolation in the Emergency Department with no inpatient unit yet ready for them.
Weeks later that number would seem like nothing, but with the town of Teaneck, where our hospital resides in Bergen County, well ahead of the positive case curve in New Jersey, that number was more than I knew any other hospital in New Jersey to be managing after our CEO went on record describing Holy Name at the "epicenter of New Jersey's coronovirus outbreak" in an interview a few days prior.
After a long week and weekend watching our first critically ill, vented patients decimating our supply of vasopressors, neuromuscular blockers, sedatives, and analgesics (not to mention intensivists requesting drugs that weren't on our formulary) and my first desperate calls to our wholesaler asking for allocation overrides well into late evening hours, I realized quickly that what we were seeing with just seven patients was going to be repeated across the state sooner than later.
While concerned for all, I was particularly concerned for my colleagues who were in institutions like my own, the few of us remaining stand-alone hospitals without a large health system behind us and no ability to leverage system wide allocations. And I had the means to warn them. In Bergen County, what started many, many years back as a small group of pharmacy directors getting together monthly for breakfast at a local diner, has grown into a robust grassroots group we call the NJPLG (New Jersey Pharmacy Leadership Group) with an extensive roster of pharmacy leaders across the entire state.
The evening of March 16, I penned a message to that email group (some 100-plus people) with the subject, "Call for Coordination and Experience Shared." My first intent was to let my colleagues know we might need help if our admission trajectory continued on this rapid course. The second was to share things we'd already faced and needed to solve in immediate real time (the first COVID patient code cart exchange for example). We did not have the experience to predict these situations and certainly no time to think clearly through the unprecedented scenarios hitting us seemingly every few hours.
I received several immediate responses both for supply assistance and expressions of willingness and a desire to collaborate. Many of those early responses led to ongoing communications of support throughout the crisis of the last several months as well as through my own 12-day COVID experience at the end of March. As the weeks have gone by, I have heard directly from those in the group that the email I sent that night was the impetus to set their hospital pharmacy leadership in motion to begin addressing the issues I described, giving them the advantage of preparing in advance for our reality that would soon be theirs.
I believe we all realized things were coming and that they had the potential to progress quickly, but we certainly did not anticipate how rapidly and drastically our practice would change. When I received an email well into May from a colleague outside the NJPLG group telling me his good friend told him "how I helped all of the other pharmacy directors when New Jersey was first hit with COVID," I realized that my email sounding the alarm had impacted many more than I had known and that I had accomplished my goal in sending the message.
That email was forwarded and caught the attention of ASHP which led to its content being posted on the newly formed ASHP Connect COVID-19 community and also to my participation as an early speaker in the COVID-19 webinar series. It brought me in contact with folks throughout the state I had not previously known well or interacted with professionally, but now know quite well and am far better for the new relationships. It enabled my participation in other group calls set up in the days thereafter and what I know will be ongoing collaboration as we work through the new order of patient care in a COVID world. So many of the pharmacy leaders I have been communicating so closely with these months as a result of that email are individuals that have always held my highest level of respect and who set the leadership example I strive to emulate. To have even one of them express their gratitude for my 20-minute effort is an honor. I am grateful for the forum the NJPLG provides for me (and my colleagues) to quickly and effectively share communications like the one I hit SEND on that evening of March 16.
Nancy Palamara, PharmD, is the director of Pharmacy, Infusion Therapy and MS Services at Holy Name Medical Center.
Posted April 1, 2021