Community Health Network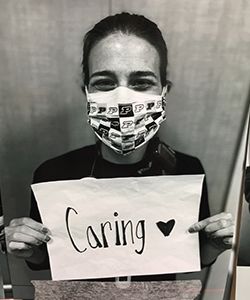 We were able to fill bags full of handmade cards and letters to deliver to each of the units in our hospital. As an ICU pharmacist, I was struggling with how to reach patients outside of the ICU and get them access to cards and words of encouragement. I teamed up with my ICU therapy colleague who interacts daily with patients throughout the hospital; I provided her and her colleagues a large supply of handmade cards and daily newsletters to share with patients during their therapy sessions. The patients were so thankful for that small act of kindness and knowing someone was thinking of them!
I am so grateful to work alongside an amazing ICU team caring for COVID-19 patients. These opportunities to be a ray of light for someone recovering from their extensive ICU stay are what I am most proud of!
Natalie Madere, PharmD, BCPS, BCCCP, is a senior clinical pharmacy specialist at Community Health Network.
Posted April 1, 2021