Midwestern University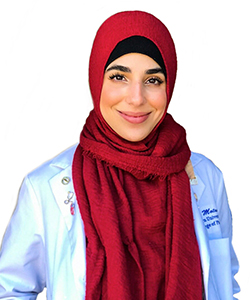 I have been extremely grateful to have had numerous opportunities to help patients during the pandemic in both the retail and hospital setting. Even though many pharmacies experienced an increase in workload during the COVID-19 pandemic, I still ensured that I was going above and beyond for my patients.
I encountered many patients who were not able to afford medications during all of the changes occurring, which allowed me to take extra efforts to call their insurance or search for coupons to help cover their medications. There were also moments where many doctor's offices were either closed or reopening with very limited hours. However, I still made it a priority to call more than 30 doctor's offices per day with prescription issues or patient concerns, regardless of how long it would take.
I am also very fortunate for the situations in which I was able to pursue my passion for educating patients through MTM and other counseling services. There were many patients over the past few months with diabetes, autoimmune conditions, mental health conditions, and more who would reach out to learn more about how they could better manage their health conditions, and who required assistance in creating goals to help them adhere to their medications and lifestyle changes. Not only was I able to work with patients to help figure out methods that allowed them to better adhere to their medications and take care of their health, but I was also able to customize my health education services based on each patient's health literacy levels. I also made efforts to ensure that I was following up with patients to see if they had any questions or concerns, all while encouraging them, and serving as their support system.
I also came across many situations where patients would come into our pharmacy asking where they could purchase medical supplies such as canes, wheelchairs, braces, and more. In my free time, I was able to call numerous locations and gather a detailed table that included a list of medical supply stores in the south suburbs area to which we would be able to refer our patients. Not only was it able to be kept in the pharmacy as a resource to help guide patients, but I was also able to share it with other medical professionals that may have patients with similar questions.
Overall, this pandemic made me aware that going the extra mile to help our patients and colleges can help improve the lives of others.
Reem Motan is a pharmacy student (P4) at Midwestern University.
Posted April 1, 2021