Roseman University of Health Sciences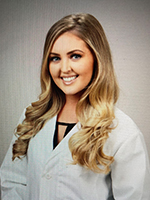 During these stressful times, change has impacted the didactic and clinical curriculum of pharmacy students across the globe. As a P1 in an accelerated program, I was disappointed to find that clinical rotations would be highly impacted for the hands-on portion of our curriculum.
Our faculty went above and beyond by producing for us Excel spreadsheets that embodied the design of patient medical charts. With these, we were taught how to navigate patient profiles and produce SOAP notes, make recommendations, read MARs, and be involved in Med Rec.
This seemed challenging and tedious at the time, but the efforts of our faculty were not in vain. I later went to shadow a pharmacist at a local hospital, and she was highly impressed with the clinical skills of a P1, especially considering the state of our nation. She appreciated how advanced I was and the relevant questions that I asked. My professors offered value to their students in a time when rotations were eliminated. I am very proud of this moment not only for myself, but for my program and my cohort as well. Online learning has not been easy for our field, but when everyone puts their minds together, great things can come of it.
Renna Marwan Sakka is a pharmacy student at Roseman University of Health Sciences.
Posted July 29, 2020