Suburban Hospital, Johns Hopkins Medicine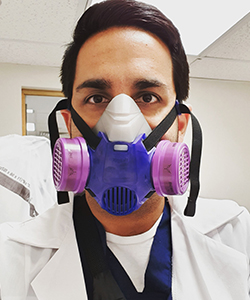 A patient was transferred to the COVID-19 ICU and was taking an oral chemotherapy drug, ibrutinib, that was recommended to be continued while admitted. The patient deteriorated and eventually had to be intubated, which made the oral chemotherapy a bit more challenging to administer.
After doing a bit of research, I discovered that not only was the oral chemotherapy drug a possible treatment option for COVID-19, but that it could still safely be given to the patient while intubated through the nasogastric tube by opening the capsule contents and flushing the contents down the tube with water. I informed the nurse about the modified administration technique of the oral chemotherapy so that the patient would not miss any doses and maintain a chance to full recovery.
Umair Uddin Ansari, PharmD, BCCCP, BCPS, MBA, is a critical care pharmacist at Suburban Hospital, Johns Hopkins Medicine.
Posted April 1, 2021