University of South Florida Taneja College of Pharmacy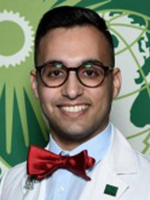 I had the opportunity to volunteer my time at a COVID-19 testing site in Plant City, Florida throughout the summer. This site was established by the county with health students from the University of South Florida acting as the source of volunteers. Health students participated in patient intake, obtaining the samples, and preparing the tests for delivery to the lab.
One day where I was volunteering in patient intake and this woman drove up with her daughter in the back seat. They both came to get tested and the daughter was showing symptoms. Upon collecting their information to check them in, they shared how they were just coming back from a funeral of a family member who had passed from COVID-19.
What this experience showed me was that no matter whether you are a professional in practice or a student in school, you can have a major impact on others during these troubling times. I was volunteering to help the surrounding community know the status of themselves and their loved ones and the gratitude that these people had was what made this experience as amazing as it was.
Victor Perez is a COVID-19 test site volunteer and pharmacy student at University of South Florida Taneja College of Pharmacy.
Posted July 29, 2020