3/29/2013
PTCB Plans Major Update to Certification Requirements
The group that has certified nearly 500,000 pharmacy technicians is introducing new requirements to the process of obtaining and maintaining the certified pharmacy technician (CPhT) credential.
"What we're doing here is raising the bar," said Everett McAllister, executive director and chief executive officer of the Pharmacy Technician Certification Board (PTCB). "The goal is to always focus on the patients. That's always the ultimate goal."
PTCB's certification requirements have been essentially unchanged since 1995, when the organization was founded. ASHP is one of the five pharmacy organizations that govern PTCB.
In general, McAllister said, the revised certification plan will allow technicians to assume greater responsibility for distributive processes, which will allow pharmacists to spend more time taking care of patients.
"When you free up pharmacists to do that, [we] believe it improves patient outcomes," he said.
PTCB is accepting comments
on its plan through May 2013. McAllister emphasized that his organization wants to hear from a variety of stakeholders, including pharmacists, pharmacy technicians, state pharmacy boards, professional associations, and employers.
Once the changes are fully implemented, new applicants for PTCB's CPhT credential will be required to pass a criminal background check and complete an ASHP-accredited technician education program. PTCB has proposed a 2014 implementation date for the background checks and expects the training program requirements to be in place in 2020.
Recertification will undergo changes as well, including the phasing out of in-service education programs and a decrease in the number of continuing education (CE) hours obtained through college classes. Pharmacy technicians must recertify every two years to keep their CPhT credential.
For recertification starting in 2015, technicians will need to complete 20 hours of pharmacy technician-specific CE that includes 1 hour of pharmacy law—a current requirement—and, starting in 2014, 1 hour of medication safety CE.
Although CE programs must be based on Accreditation Council for Pharmacy Education (ACPE) principles, the programs are not required to be from an ACPE-accredited provider, according to PTCB.
McAllister said there are sufficient CE programs available now that PTCB considers technician specific, and he expects the number of such programs to grow.
He acknowledged that PTCB has much work to do to nail down the specifics of the CE requirements.
"As we write the rules, we'll develop what the standards ought to be for acceptable hours. We're not quite sure what it's going to look like just yet," McAllister said. "The comment period gives us a chance to gather information and sit down and craft good policy."
The policy on background checks is also a work in progress. PTCB's goal is to ensure that background checks harmonize with systems already used by employers and other entities in the health care system, rather than duplicating their work.
"Ideally that should happen at the beginning of the training process," McAllister said. "We don't want to have the individual go through it twice."
But Gay Dodson, executive director of the Texas State Board of Pharmacy, cautioned that unless PTCB's background checks satisfy all legal requirements in the state, the checks will probably need to be redone for technicians in Texas.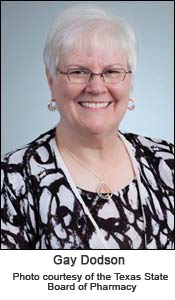 "It's more complicated than it seems," she said.
Dodson said a state contractor uses an electronic scanning system to capture fingerprints of people seeking registration as a pharmacy technician. The fingerprints are checked against a state database and then sent to the Federal Bureau of Investigation, which checks the fingerprints against a national database and reports the findings back to the state.
Fingerprint records are then checked quarterly against the state's database to determine whether registrants have any new arrests or if other information has been posted that may affect their professional status. Dodson estimated that the state's database contains about 90,000 records for pharmacists, pharmacy technicians, and pharmacy owners.
She said state law prohibits the pharmacy board from sharing information with other entities that is uncovered during background checks.
For example, she said, pharmacy schools are requiring background checks for pharmacy interns and have contacted the board about using its data instead of running a new background check.
Unfortunately, she said, "we cannot give that information to them. We are bound to keep it confidential."
She also noted that if a pharmacy technician goes before the board and agrees to the revocation of his or her license because of criminal activity, the revocation order generally doesn't describe the criminal charges.
"When we send that information to PTCB, they don't have what they need to be able to revoke the certification, because they don't know [the details], and I can't share that information with them," Dodson said. She added that the board is seeking legislative authority to share information like this with other entities.
Nearly 50,000 pharmacy technicians and technician trainees were registered in Texas in 2011. PTCB certification has been a requirement for pharmacy technicians in Texas since 1995.
Dodson said she was pleased that PTCB plans to require technicians to complete an ASHP-accredited training program.
"Right now, ASHP is the standard we use for the programs where we are allowed to set the standards," she said. "The problem with the whole thing is you don't have to go through an approved program" to be registered in the state.
Dodson said she supports, and the board has discussed, requiring all pharmacy technicians to complete ASHP-accredited training for registration. She said the sticking point has always been that there aren't enough accredited programs to meet the demand if the training is mandated.
In all, 241 technician training programs are currently ASHP accredited or in the process of earning accreditation, said Janet Teeters, director of accreditation services for ASHP.
McAllister at PTCB acknowledged that this is one reason why the implementation date for requiring ASHP-accredited training is seven years away.
Douglas Scheckelhoff, ASHP's vice president of professional development, said the new training requirement should create a demand for accredited programs.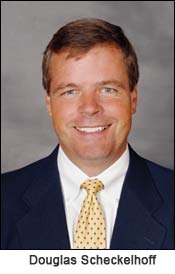 "There are many who have delayed either accreditation, or seeking becoming accredited programs, because there was not a requirement to do so.
Now . . . we do expect that there will be more programs that seek accreditation and certainly more graduates from accredited programs," Scheckelhoff said.
He said that because there are large variations in enrollment and graduation rates for nonaccredited programs, it's difficult to estimate how many newly accredited programs will be needed to satisfy PTCB's new requirement.
But he said the requirement is a positive step forward for both professions.
"We continue to see a greater utilization of pharmacy technicians in virtually all settings of pharmacy and a greater number of nontraditional roles. So having a better-trained pharmacy technician work force will position us well for providing safe and effective medication use in the future," he said.