8/25/2016
Twitter Verifies ASHP Twitter Account
The popular social networking site Twitter has verified ASHP's Twitter account, 
@ASHPOfficial
. ASHP is currently the only pharmacy membership organization with a verified account. Through its verification, Twitter has determined the ASHP account to be of public interest. Accounts of public interest usually include Twitter users and organizations involved in music, performing arts, politics, religion, media, sports, business, or the government. 
"With so much information available on Twitter, this verification will help ASHP gain credibility among pharmacy practitioners who are seeking accurate, reliable information," noted ASHP Director of Communications Joseph M. Feese. "We strive to be the voice of the pharmacy profession, and the blue verification badge that now appears beside our account name lets Twitter's 1.3 billion registered users know that @ASHPOfficial is a high-quality account to follow."
Twitter was the first social networking site to introduce account verification in 2009 as a way to protect public figures from being impersonated. It currently has nearly 320 million monthly active users, yet only 187,000 verified accounts. The U.S. Centers for Disease Control and Prevention was one of its first healthcare-related verified accounts. Only Twitter staff can apply a verified badge to an account.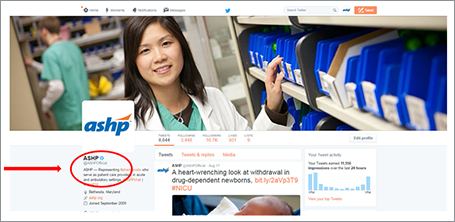 # # #