5/23/2017
Press Release
ASHP Names New Global Headquarters in Honor of Former CEO
Last week, ASHP dedicated its new Bethesda headquarters as the Joseph A. Oddis Global Headquarters of ASHP. The dedication of the new ASHP headquarters coincides with a major 2017 milestone for ASHP — the organization's 75th anniversary.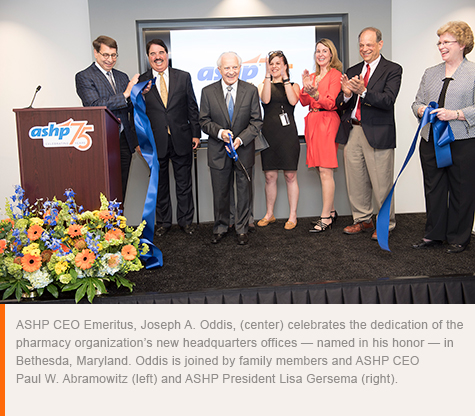 In a ceremony held on Friday, May 19, in ASHP's Conference Center at 4500 East West Highway, nearly 200 people gathered to hear remarks and honor the man known as the father of ASHP. The dedication recognized the contributions of Joseph A. Oddis, Sc.D., a former CEO (1960-1997) of ASHP, the professional association that represents pharmacists who serve as patient care providers in acute and ambulatory care settings.
The headquarters dedication ceremony was attended by current and past ASHP staff, former ASHP executive residents, past ASHP presidents, past and present board members, and leaders from many national pharmacy associations, including the American Pharmacists Association (APhA), the American Association of Colleges of Pharmacy, and the Pharmacy Technician Certification Board.
The Joseph A. Oddis Global Headquarters of ASHP is the fourth home of ASHP in its 75-year history. In 1966, Dr. Oddis moved ASHP from the Washington, D.C., headquarters space it shared with the APhA to a home at 4630 Montgomery Avenue in Bethesda, Md. That building is only a block away from ASHP's new headquarters on East West Highway. In 1992, ASHP moved to 7272 Wisconsin Avenue, which was renamed in 2013 as the Joseph A. Oddis Building.
"During his 37-year tenure as CEO, [Dr. Oddis] transformed ASHP from an organization with 3,300 members and one staff person into a strong, vibrant, and influential force in pharmacy and healthcare," said ASHP CEO Paul W. Abramowitz, Pharm.D., Sc.D. (Hon.), FASHP. "Today, ASHP boasts nearly 45,000 members, a staff of more than 200, and a wide range of contributions that would not have been possible without Dr. Oddis' extraordinary vision and tremendous leadership."
"This ceremony comes during a pivotal year for ASHP — our 75th anniversary," said ASHP President Lisa Gersema, Pharm.D., M.H.A., BCPS, FASHP. "Arriving at this milestone allows us to both celebrate our past and chart a course for our future. Today, we recognize Joseph A. Oddis, a great man who is responsible for establishing much of the framework for ASHP's many contributions to pharmacy and healthcare, and who serves as an inspiration for all of us as we strive to make medication use optimal, safe, and effective for all people all of the time."
Significant achievements from Dr. Oddis' career include the following:
Led ASHP's growth from 3,300 members and a staff of 1 to 31,000 members and a staff of 180.
Launched the ASHP Midyear Clinical Meeting, now the largest meeting of pharmacists in the world.
Created the ASHP Research and Education Foundation, which today offers extensive research grant, educational, and awards programs that assist and recognize pharmacists providing care to patients in our nation's hospitals and health systems, leading to optimal medication outcomes.
Expanded ASHP's publishing efforts, including the American Hospital Formulary Service (AHFS), which has gained national recognition as the most comprehensive resource of unbiased drug information and is recognized by the U.S. Congress as an official compendium.
Built ASHP's leadership and influence by collaborating on the important issues of the time with other pharmacy and healthcare organizations as well as government regulatory agencies, including the American Hospital Association, the American Nurses Association, the American Society of Internal Medicine, The Joint Commission, the Food and Drug Administration, and the Centers for Medicare & Medicaid Services.
EDITOR'S NOTE: Photos of the ASHP Global Headquarters dedication are available on request.
About ASHP
ASHP represents pharmacists who serve as patient care providers in acute and ambulatory settings. The organization's more than 43,000 members include pharmacists, student pharmacists, and pharmacy technicians. For 75 years, ASHP has been at the forefront of efforts to improve medication use and enhance patient safety. For more information about the wide array of ASHP activities and the many ways in which pharmacists advance healthcare, visit ASHP's website, www.ashp.org, or its consumer website, www.SafeMedication.com.
# # #