6/4/2017
Talk Out Ethical Dilemmas When Possible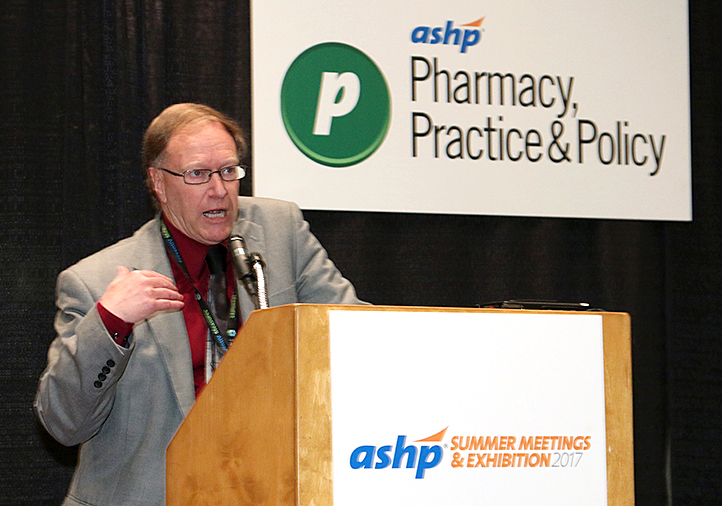 Timothy P. Stratton, Ph.D., BCPS, FAPhA
How does a pharmacist manage a patient's chronic pain without causing opioid addiction?
That ethical dilemma was explored on Sunday in Minneapolis during the two-hour Joseph A. Oddis Ethics Colloquium 2017, part of the ASHP 2017 Summer Meetings & Exhibition.
"One of the things that I encourage you to do when you encounter an ethical dilemma in the practice setting — talk it out," said lead presenter Timothy P. Stratton, with the University of Minnesota College of Pharmacy in Duluth. "Talk it out with colleagues."
Talking it out is what the 76 participants did through small-group discussions of three cases.
One case involved a 53-year-old man who sought early refills of extended-release morphine tablets and immediate-release oxycodone tablets prescribed by an out-of-town pain specialist. The pharmacist at the integrated health system's outpatient pharmacy found in the electronic medical record a 15-week-old positive urine screen for fentanyl as well as the controlled substances that had been prescribed. Informed of this, the prescriber nonetheless agreed with the patient's request for early refills.
"Not dispensing, clearly, with the high opioid usage by this patient, would result in some kind of a withdrawal syndrome," said Susan D. Bear, with Carolinas Healthcare in Charlotte, N.C.
Nicholas Cox, postgraduate year 2 ambulatory care pharmacy resident at University of Utah Health in Salt Lake City, said his discussion group decided that "dispensing is not the right option."
He said the pharmacist in the case should recommend a course of action to the prescriber. "In my experience this past year with opioid research, the physicians want validation and help with the situation."
Stratton said pharmacists who don't have the opportunity and time to talk out an ethical dilemma must rely on their upbringing and their professional training to decide on the most appropriate resolution.
The colloquium was sponsored by the ASHP Research and Education Foundation.