6/7/2017
Implement New Strategies, Bush Says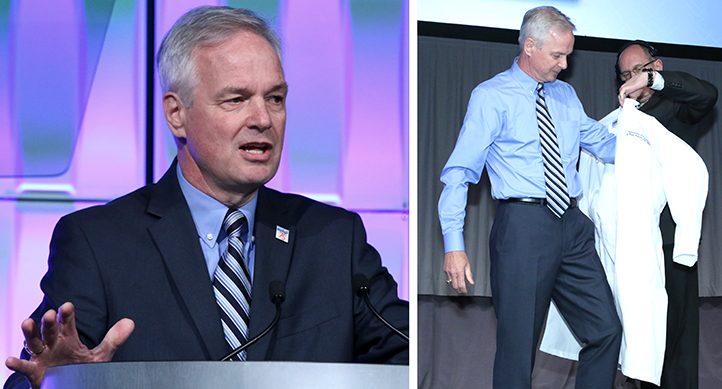 Incoming ASHP President Paul W. Bush on Tuesday declared every pharmacist at the Summer Meetings a leader by virtue of their participation.
And leaders in health-system pharmacy need to act as their staff's advocates and supporters, Bush said during his inaugural address in Minneapolis.
"Let's implement new strategies," he said, "to develop our staff's resilience, develop support programs for our technicians, and develop leaders, including clinician leaders."
Bush said new strategies to develop resilience are expected to come from a new initiative that ASHP is cosponsoring: the Action Collaborative on Clinician Well-Being and Resilience, coordinated by the National Academy of Medicine.
He urged the audience to commit to educating, training, and developing its pharmacy technicians at the same intensity as with students, residents, and pharmacists.
And then Bush, who had been wearing a traditional suit (above left), donned his white coat (above right) and said he envisions a future where more pharmacy leaders have active clinical practices.
"I believe we should offer opportunities for our clinicians to be leaders of our pharmacy divisions and departments. And residents trained in pharmacy administration should develop and maintain an active clinical practice."
The audience erupted in applause.
Bush extended his calls to action to every pharmacist in the audience, regardless of rank.
"No matter what your current position— even if you're the chief pharmacy officer — I encourage you to personally develop and offer learning experiences for those around you," he said. "All of us — and especially our patients — will be better off for it."