6/12/2017
Joseph A. Oddis Honored at ASHP Headquarters Dedication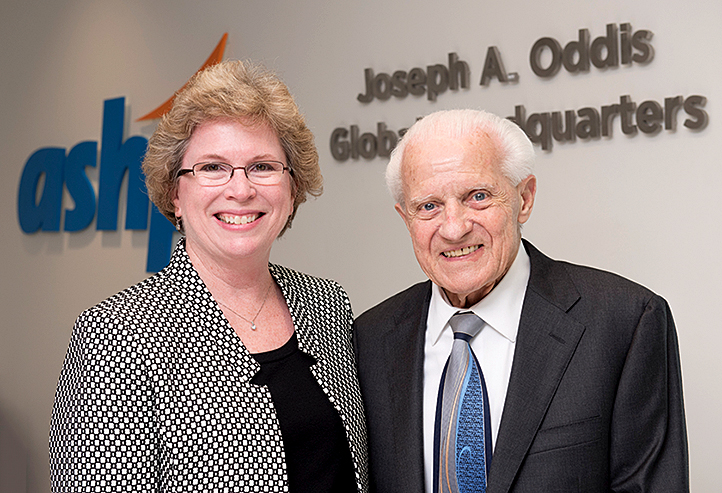 ASHP President Lisa M. Gersema with ASHP CEO Emeritus Joseph A. Oddis
ASHP Chief Executive Officer (CEO) Emeritus Joseph A. Oddis took center stage at the ribbon-cutting and dedication ceremony for the organization's new headquarters office in Bethesda, Maryland.
Oddis, the guest of honor at the May 19 event, was welcomed by an enthusiastic crowd of current and former ASHP staff, officials, and supporters from other pharmacy organizations.
The dedication ceremony was part of ASHP's ongoing 75th anniversary activities, which ASHP President Lisa M. Gersema called a "milestone [that] allows us to both celebrate our past and chart a course for our future."
The ceremony included remarks from CEO Paul W. Abramowitz, Gersema, and Oddis's son, Joseph M. Oddis. The event culminated in the official recognition of the new office space as the Joseph A. Oddis Global Headquarters of ASHP.
"Dr. Oddis is a man, as we all know, of incomparable grace, wisdom, and vision," Abramowitz told the attendees. He thanked Oddis, ASHP's longest-serving CEO, for his "visionary leadership" and his "profound and lasting impact" on modern clinical pharmacy, patient care, and public health.
Oddis was the driving force behind the growth of ASHP for much of the organization's existence, starting in 1960 when he became CEO of the 3,300-member organization, known at the time as the American Society of Hospital Pharmacists.
During his 37-year tenure, ASHP's membership grew to 31,000 pharmacists, pharmacy technicians, and other supporters of the profession.
Oddis in 1966 orchestrated ASHP's move from the American Pharmaceutical Association's headquarters in Washington, D.C., to offices in Bethesda. When the organization outgrew that space, Oddis spearheaded the purchase of a nearby office building, which was ASHP's home from 1992 until January of this year.
During the dedication ceremony, Oddis's son called the new headquarters a symbol of leadership, service, innovation, and commitment to excellence.
The new headquarters occupies space in a 9-story, 330,000-square-foot modern office building. Located a few blocks north of the previous headquarters, the new facility is Bethesda's first Leadership in Energy and Environmental Design (LEED) platinum-certified building.
LEED certification demonstrates adherence to design, construction, maintenance, and building operation elements related to energy efficiency and environmental stewardship. The platinum designation is the highest certification level available.
"As we mark the beginning of a new era for our organization, it is only fitting that this beautiful new space should also honor Dr. Oddis's unrivaled contributions and legacy," Abramowitz said.
Among the most consequential of Oddis's "signature initiatives," Abramowitz said, are the educational gatherings that are now known as ASHP's Midyear Clinical Meeting and the Summer Meetings.
The first Midyear Clinical Meeting featured 300 attendees, Oddis confirmed. About 25,000 people attend the annual event now, making it the world's largest yearly gathering of pharmacists.
Abramowitz thanked Oddis for his leadership in founding the American Hospital Formulary Service drug information product line, numerous clinical textbooks and references, and ASHP's flagship scientific publication, AJHP.
He praised Oddis's role in advocating for the participation of pharmacists on patient care teams and for advancing pharmacy technician practices through the certification of education and training programs for technicians.
And he called Oddis "an early believer in the power of pharmacy residencies to improve patient care [who] helped to establish ASHP's residency accreditation program."
More than 4,000 pharmacy residency positions were filled this past March through the ASHP Resident Matching Program.
Oddis's vision for pharmacy practice advancement was also a driving force behind the creation of the nonprofit ASHP Research and Education Foundation in 1968, said Stephen J. Allen, the organization's CEO.
"His influence as a foundation board member for nearly 30 years helped the organization address key education and research initiatives to advance the pharmacy profession," Allen said.
"Following his retirement, Dr. Oddis assumed the role of ASHP Foundation president emeritus, and to this day, both the foundation board members and I benefit from his counsel and guidance," Allen said.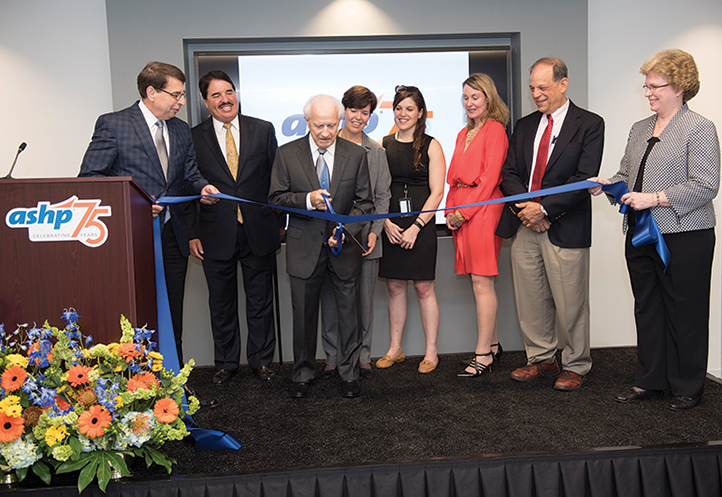 Joseph A. Oddis cuts the ribbon at the dedication ceremony for ASHP's new headquarters, while his family looks on. (from left) ASHP CEO Paul W. Abramowitz, Joseph M. Oddis, Joseph A. Oddis, Marie Newman, Rebecca Newman, Debra Oddis, Richard Newman, and ASHP President Lisa M. Gersema
[This news story appears in the July 1, 2017, issue of AJHP.]