6/16/2017
Some Hospira Products Get 'New Use Dates' While Others Get Recalled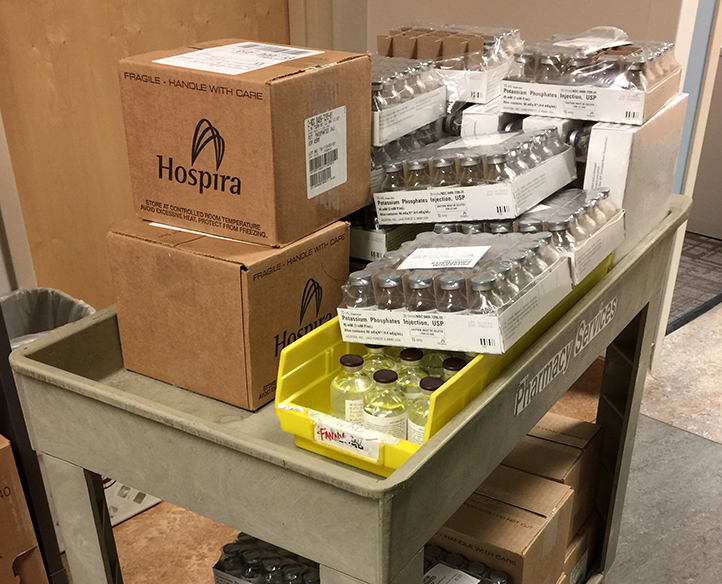 A cart holds the sodium bicarbonate and potassium phosphates vials removed Friday morning from the University of Utah Hospital's inpatient pharmacy in response to Hospira's recall. Photo courtesy of Erin R. Fox
FDA on Thursday announced that certain lots of Hospira Inc.'s atropine sulfate 0.1 mg/mL injection, 50 percent dextrose injection, and epinephrine 0.1 mg/mL injection — all in syringes — have "new use dates" based on stability data provided by parent company Pfizer.
Also on Thursday, Hospira announced the recall of 42 lots of 8.4 percent sodium bicarbonate injection vials, 5 lots of 4 percent sodium bicarbonate vials, 5 lots of succinylcholine chloride injection vials, and 7 lots of potassium phosphates injection vials.
The recall, the company said, is being conducted because microbial growth was detected during a "routine simulation of the manufacturing process."
Vials in those lots were distributed to wholesalers and hospitals from January to June, Hospira said. And while none of the distributed vials "have been identified as actually containing microorganisms," the company said, the "remote" possibility of a "breach in sterility assurance" for those vials cannot be ruled out.
Erin R. Fox, director of the University of Utah group that provides drug shortage bulletins for the ASHP Drug Shortages Resource Center, called the new use dates for the atropine, dextrose, and epinephrine syringes "extremely good news."
"That is really going to help people be able to maintain their crash carts and maintain their emergency supplies," Fox said.
The new use dates provided by FDA are six months to one year later than the expiration date on the syringes' label and, the agency said, will help hospitals contend with the ongoing shortages of those products.
In alerting healthcare professionals and emergency responders of the new use dates, FDA said it does not require or recommend relabeling the "identified lots."
FDA said Pfizer informed the agency that the shortages of these drug products as well as of sodium bicarbonate injection and calcium chloride injection are due to "manufacturing, distribution and third party delays."
The shortage of sodium bicarbonate injection has been ongoing since February, according to the ASHP drug shortage bulletin prepared by the University of Utah Drug Information Service.
Sodium bicarbonate injection, Fox said, is "the most critical product we have in short supply right now in the United States."
Hospira's recall removes much of the nation's supply of sodium bicarbonate injection from healthcare settings, she estimated.
"At our health system today, we lost half of our stock," Fox said, referring to University of Utah Health in Salt Lake City.
She advised all pharmacists "to keep working on their shortage management strategies and thinking about ways to reduce the use and reserve for the most critical patients."
And pharmacies, Fox added, may need to consider buying sodium bicarbonate injection from an FDA-registered outsourcing facility.
Queried about the role of outsourcing facilities in helping to alleviate the supply problems, FDA stated that a special provision in section 503B of the Federal Food, Drug, and Cosmetic Act applies during drug shortages. That is, a drug compounded by an outsourcing facility is not considered "essentially a copy" of an FDA-approved drug when the compounded drug is identical or nearly identical to an approved drug appearing on FDA's drug shortage list at the time of compounding, distribution, and dispensing. "Accordingly," FDA stated, "outsourcing facilities may compound such drugs provided they meet the other conditions in section 503B and applicable federal law."
Checked today, the FDA Drug Shortages database shows the status of atropine sulfate injection, calcium chloride injection, 50 percent dextrose injection, epinephrine injection, potassium phosphates injection, and sodium bicarbonate injection as "Currently in Shortage."
Supplies of 8.4 percent sodium bicarbonate injection manufactured by an Australian company can be bought from Athenex Pharmaceutical Division LLC in Illinois. In May via FDA's drug shortage webpage on sodium bicarbonate injection, the agency announced that it had worked out an arrangement for Athenex to temporarily import Phebra Pty Ltd.'s 8.4 percent sodium bicarbonate injection vials. The single-use 10- and 100-mL vials can be acquired only from Athenex, which issued a Dear Healthcare Professional letter explaining the ordering process and differences between the Pfizer and Phebra products.
A downside to this option, Fox noted, is a hospital can obtain "only a very small amount" of the imported product — "an insufficient amount to really help any large hospital."
The Pfizer products were manufactured by subsidiary Hospira Inc., which was an independent company until its acquisition in September 2015. Hospira started in 2004 as the spinoff of Abbott's hospital products division.