First Year Student Pharmacist
Welcome to the first year of your pharmacy school journey! We understand that transitioning into a professional, academic program may be overwhelming. ASHP provides support and guidance for student pharmacists with resources such as the Road to Residency and the AJHP Pharmacy Student Forum Column. ASHP also provides networking opportunities for students through the Pharmacy Student Forum Advisory Groups, the Mentor Match program, and ASHP Connect. Join ASHP today for your first year of pharmacy school at no charge.
---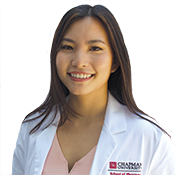 "My complimentary P1 membership provided me opportunities to learn about and explore careers in health-system pharmacy. I also had access to resources to help me develop professionally and improve my leadership skills."
Charlotte Tran
Pharm.D. Candidate
Class of 2023 - Chapman University School of Pharmacy
---
Discover Your Career Interests
Professional Development Resources