Third Year Student Pharmacist
During your third professional year of pharmacy school, in-person course work wraps up and you begin to outline your experiential rotation learning experiences. It's an exciting time as the vision for life after pharmacy becomes slightly more clear. ASHP's resources for third year student pharmacists are here to help you as you start to develop your professional identity as well as enhance your skillset as you venture onto the healthcare team.
---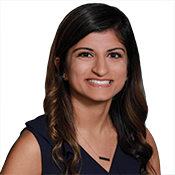 "My ASHP membership has opened numerous doors for my growth as a student pharmacist. Not only have I gained access to valuable resources such as ASHP Connect and the Mentor Match Program where I can engage with my peers and network with pharmacists, I also have had numerous opportunities to increase my leadership and career development skills."
Aliya Abdulla
Pharm.D. Candidate
Class of 2022 - Georgia College of Pharmacy
---