Overview
Social media is an exciting and relatively easy way to get involved in and help promote ASHP, State Affiliate, and SSHP initiatives, events, and services. By engaging with and using ASHP content on social media, you can network and learn from fellow ASHP members of all career levels from across the country through channels that you may already have – Facebook, Twitter, LinkedIn, Instagram, and more. Before posting, take time to review our tips and tricks for making the most of your social posts on each channel, as well as some dos and don'ts to avoid any social media mishaps.
Official ASHP Social Media Accounts
To increase your reach, make sure to tag the official ASHP social media accounts in your student membership- or SSHP-related posts and pictures. This enables ASHP to share your posts with ASHP's followers, connecting you with student pharmacists around the country.
Facebook: https://www.facebook.com/ASHPofficial/
Twitter:https://twitter.com/ASHPOfficial
LinkedIn:https://www.linkedin.com/company/ashp/
Instagram:https://www.instagram.com/ashpofficial/
ASHP Student Member Hashtag: #ASHPStudents
This is the official hashtag of ASHP student members – include this in your posts (especially on platforms such as Twitter and Instagram that allow hashtag tracking) to further engage with fellow student members.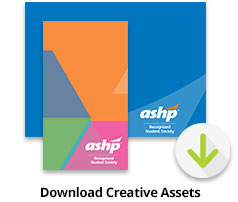 ASHP Creative Assets to Get You Started:
To help you create professional, clean, and engaging posts on all social media platforms, ASHP has created a number of templates and creative assets your SSHP can use. Download our customizable templates and engage your audience. Want to go a step further? Consider using Canva (a free, online graphic design tool) or Adobe Photoshop to add your own pictures or quotes.
Sample Social Media Posts & Thought Starters
Creating brief and engaging social media posts can be challenging. Below you can find a number of suggestions on verbiage you can use when promoting ASHP membership, programs, and initiatives. Feel free to use the language as written or modify based on the needs of your SSHP.
Sample Posts
Red font denotes tagging.
Themes to Consider
Do you have a compelling story about your ASHP membership? Consider sharing it – personal stories are a great way to highlight how ASHP has impacted your life. Some thought-starters:
Share a mentorship story (whether you were mentor or mentee)

Live-tweet or post Instagram Stories from a meeting or conference about research you find exciting

Post shout-outs to other ASHP student members
Post Examples
These posts are from official ASHP social media accounts. If you're ever stumped on how to best share ASHP news or promote membership, you can always refer to ASHP accounts for help with wording (or even just to share ASHP posts).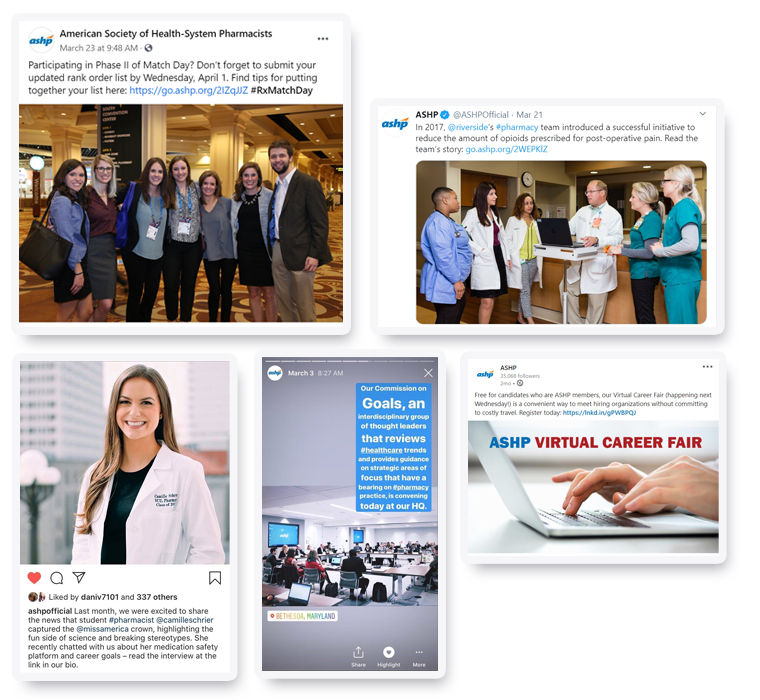 Social Media Dos and Don'ts
Do…
Tag ASHP's official social media channels when posting about ASHP, ASHP State Affiliate, and SSHP programs, events, etc. This not only increases your social media reach, but also allows the ASHP social media team to engage with and share your post from official ASHP platforms.

Engage with ASHP content – feel free to share on Facebook and LinkedIn, retweet on Twitter, and regram/share to Stories on Instagram, and comment on all.

Include visual content (pictures, videos, gifs, etc.) and links with your posts, when possible. This increases engagement and is more informative for your followers.

Use hashtags, especially on Twitter and Instagram.
Don't…
Share inappropriate content. For example, avoid sharing pictures and posts that may be viewed as unprofessional. A good rule of thumb is to

not

post if you're unsure whether something is appropriate – employers often check the social media accounts of prospective employees.

Feel like you have to be active on every social media platform – having one well-maintained account is much better than having five inactive channels. When deciding which platforms to use, think about your social media use and your network's social media use, and which platforms would most benefit your goals. For example, if you enjoy sharing news articles, Twitter may be best for you. If you prefer image-oriented content, you may want to focus on Instagram.
More Tips
The Pharmacy Student Forum Community and eCommunications Advisory Group has developed a number of flyers to help you navigate the tips and tricks of social media posts in various channels. Access the resources below to help you get started: