ASHP's completely updated and expanded competency management subscription includes 54 online competencies and initial skills assessments to manage and monitor competency completion among pharmacist and pharmacy technician staff.
Each competency includes learning objectives, a study guide, and a competency assessment exam.

Highlights of the new center include:
Coverage of 54 key skills assessments for pharmacists and technicians
Updated compounding guidelines and accreditation standards
Administrator access for monitoring and reporting
Continuous/dynamic content - PCAC is regularly updated as new standards and skills are introduced into practice
Customizable competency checklists for your specific organizational needs
40+ hours of CE
Content is widely vetted and derived from 90 in-field expert contributors across the country
Single Users
The Pharmacy Competency Assessment Center-SINGLE is available for individual use only. PCAC-SINGLE does not offer administrator access or customizable competency checklists.
If you are looking for competency management for your staff, PCAC is available for institutional use and by annual subscription.
Institutions
The Pharmacy Competency Assessment Center is designed for institutional use and is available by annual subscription. Administrators purchasing for staff will have access to monitor completion of assigned competencies.
Interested in previewing some of the competencies? Contact Chris Jezowski at [email protected] for a demo or to request a free institutional trial.
PCAC + DoseMeRx
PCAC + DoseMeRx includes ASHP's PCAC for Institutions plus access to the market leading Bayesian dosing platform - DoseMeRx.
Specifically priced and designed to provide pharmacy departments in small hospitals (up to 100 beds) the most efficient means of complying with the revised consensus guideline for monitoring vancomycin.
The PCAC + DoseMeRx annual subscription includes:
Full access to PCAC for Institutions
Unlimited use of DoseMeRx's web-based solution
Vancomycin Bundle, offering the following drug models:

Vancomycin Standard Adult
Vancomycin Enhanced Obese Adult
Vancomycin Pediatric
Available within PCAC, clinical competency assessments relay vancomycin dosing scenarios to assist your team to navigate through the DoseMeRx platform, creating familiarity to Bayesian dosing in a variety of clinical situations.
DoseMeRx is a unique, easy-to-use decision support software used by hundreds of clinicians around the world to support the dosing for thousands of patients. It is the only HITRUST CSF certified Bayesian dosing platform. The platform leverages clinically validated pharmacokinetic drug models, patient characteristics, and drug concentrations to guide dose optimization of vancomycin.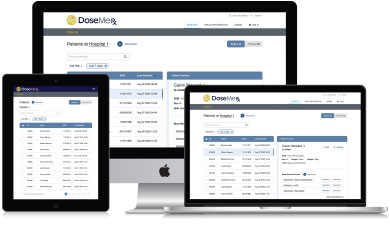 Transition to AUC-Guided Vancomycin Dosing With Our Cost-Effective Solution
Annual subscription rates, per institution, are as follows:
| | |
| --- | --- |
| Number of Users | Price/annually |
| Up to 10 | $2,410 |
Hospitals with 100 beds or less qualify for the special PCAC + DoseMeRx subscription.