Why PharmTech Ready®
PharmTech Ready offers over 160 hours of didactic content for entry- and advanced-level pharmacy technician training programs and is aligned with PTAC accreditation requirements and the ASHP/ACPE Model Curriculum.
What sets PharmTech Ready apart?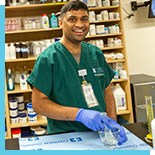 OUR CONTENT
Our content is the gold-standard in all of pharmacy practice and is derived from best practices and is of the highest quality. ASHP is the world's largest provider of pharmacy education and the most trusted source of health-system pharmacy information.
---
Why choose ASHP to train your workforce?
ASHP has 80 years' experience developing and implementing world-class education, content, and practice resources for the pharmacy workforce.
ASHP is uniquely positioned to leverage collaboration between staff and members, marrying excellence in content development capabilities with real-world practice perspectives.
ASHP has built a reputation for unparalleled leadership and trust. We go beyond just education and support your technician's professionalism and career growth.


Additional Benefits From ASHP
Pharmtech Ready comes with several additional resources and benefits that are exclusive to ASHP and will not only educate and train your technician workforce but also support them in advancing their career through access to professional development resources. Subscribers also receive:
Resources for preceptors
ASHP membership for all technician students which includes:

Pharmacy Technician Forum membership
Pharmacy Tech CE subscription
Member-only webinars and podcasts
Online AJHP access
ASHP Daily Briefing – industry news
ASHP NewsLink – ASHP news
Pharmacy Technician NewsLink

ASHP membership for training program director
Advisory services
Expanded use opportunities