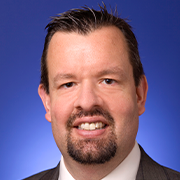 Dale E. English II, PharmD, BSPharm, RPh, FASHP ([email protected]) is associate dean of student affairs and professor of pharmacy practice at Sullivan University College of Pharmacy and Health Sciences in Louisville, Kentucky. Dr. English earned both his BS Pharm ('93) and PharmD ('05) degrees from Ohio Northern University. He completed an ASHP Antithrombotic Traineeship at UC Davis Medical Center in Sacramento, CA. He has served in frontline health-system pharmacist roles working all three shifts as well as clinical lead roles over his 30-year pharmacy practice career.
Dr. English has been exceptionally active in ASHP throughout his career serving in numerous leadership capacities, including the Council of Education and Workforce Development, Section of Inpatient Care Practitioners, Fellows (FASHP) Recognition Committee, Student Leadership Awards, ASHP House of Delegates, and countless ASHP committees. He currently serves as vice chair of the Section Advisory Group on Student Education and Learning Experiences for the Section of Pharmacy Educators. In addition to ASHP involvement, Dr. English has been active in local, state, and international pharmacy organizations serving in leadership positions at all professional organization levels.
Dr. English, in his current role at Sullivan University College of Pharmacy and Health Sciences, provides leadership for the Office of Student Affairs, as well as oversight of professionalism, leadership, and success issues for student pharmacists, student physician assistants, and the college. Throughout his career, he has served as a preceptor and faculty advisor for numerous student professional organizations, including the Student Society of Health-System Pharmacists. Pharmacy education and mentorship of pharmacists and pharmacy students continues to be his passion.
Pharmacy educators have always been an integral part of ASHP membership. Throughout my career, I have had the good fortune to work with amazing ASHP members, colleagues, and pharmacy educators. The Section of Pharmacy Educators (SPE) has provided an ASHP home for pharmacy educators and the vital role we play in securing a bright future for health-system pharmacists. The opportunity to serve ASHP, the Section of Pharmacy Educators, and the pharmacy profession is something that I am deeply grateful to be considered for. Serving ASHP members and colleagues is one of the highest honors and something I am deeply passionate to do. The SPE has made an incredibly positive impact over the first few years of existence. I believe the SPE will continue to lead positive change for the pharmacy profession as well as the individuals we serve as pharmacists and educators. If elected, I will do my due diligence to ensure members of the SPE are well represented, their concerns are heard, and their actions are recognized by ASHP and ASHP leadership. Ensuring pharmacy education is ever improving and providing the highest level of patient care is a driving force for my continued endeavors to serve you and ASHP.
I am humbled and honored to be nominated for the director-at-large position of the Section of Pharmacy Educators. I look forward to the opportunity to serve every member of this section! Thank you, in advance, for your thoughtful consideration of allowing me to serve you in this role.