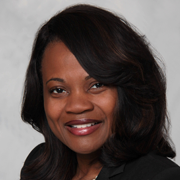 Dawn M. Moore, PharmD, MS, CPEL, FACHE ([email protected]) is the vice president and chief pharmacy officer at Community Health Network in Indianapolis, Indiana, and an affiliate assistant professor at Purdue University and Butler University. Moore earned her Doctor of Pharmacy degree from Florida A&M University and MS from University of Wisconsin.
In her current role, she oversees the strategic, administrative, and operational initiatives of the pharmacy enterprise's nine-hospital, 1,230-bed health system with over 200 sites of care, encompassing inpatient, retail, specialty, ambulatory care pharmacy, homecare, and infusion pharmacy services. With over 22 years of experience leading hospital and health-system pharmacies, she is skilled at driving quality and safety in patient care, optimizing medication revenue integrity, decreasing drug costs and inappropriate utilization, and expanding and implementing new practices.
She is a member of the ASHP Pharmacy Executive Leadership Alliance and has served as a member of the ASHP Task Force on Racial Diversity, Equity, and Inclusion; ASHP Multi-Hospital Health-System Pharmacy Executive Committee; ASHP Women in Pharmacy Leadership Steering Committee; ASHP Council on Pharmacy Management; and as adjunct faculty to the ASHP Foundation Pharmacy Leadership Academy. In addition to her leadership within ASHP, she leads in her community as a board member, Indianapolis Coalition for Patient Safety; member, Indiana Healthcare Executives Network, and served as president, Indiana Pharmacy Association. Her passion to address health disparities cultivated her interest as a board member and chair, The Martin Center for Sickle Cell Initiative. Nationally, she served as a member, Vizient Purchasing Council; and founding member, Advisory Board Pharmacy Executive Forum.
Meet Dawn M. Moore
"Not everything that is faced can be changed, but nothing can be changed until it is faced."
― James Baldwin
As healthcare practitioners, we are called to enhance the health and well-being of patients and the communities we serve. As the profession continues to recover from the pandemic, evolves, and modernizes, addressing future opportunities and challenges will require us to think boldly and act persistently.
Nationally, ASHP is well-positioned to lead our profession into tomorrow's pharmacy landscape. But it will also require each of us, at the state and local levels, to advocate for what I believe are critical initiatives:
Create a sustainable workforce to meet the future competency and quantity needs of the profession to serve our patients and communities.
Ensure the safety of expanded care deliveries, in-home medical services, and virtual care through pharmacist-led partnerships with nontraditional providers.
Integrate telemedicine and other innovative digital health strategies, such as artificial intelligence/machine learning, into pharmacy practice allowing for improved population health management and workflow efficiencies and supporting clinicians to practice at the top of their license.
Mitigate business strategies threatening the access and distribution of medications (including 340B programs, site-of-care restrictions, and white bagging) and ensure safe medication use for all patients.
Foster pharmacy workforce diversity to closely reflect the patient populations served.
Together, through our bold and persistent actions, we can face and overcome these challenges!
It is an honor to be slated, and it would be a privilege to serve on the ASHP Board.