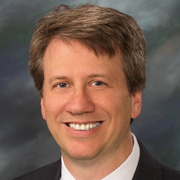 Douglas C. Slain, PharmD, BCPS, FASHP ([email protected]) is a professor & infectious diseases clinical specialist at West Virginia University (WVU) School of Pharmacy and WVU Medicine's J.W. Ruby Memorial Hospital and Clinics. He also serves as the chairman of the Clinical Pharmacy Department. Slain received his pharmacy bachelor's degree and his Doctor of Pharmacy degree from Duquesne University in Pittsburgh. He then completed a residency and fellowship in infectious diseases pharmacotherapy at the Virginia Commonwealth University (VCU)-Medical College of Virginia (MCV) Hospitals in Richmond. Slain has been extensively involved with ASHP. He has served as chair and director-at-large of the Section of Clinical Specialists & Scientists, as chair of the Council on Therapeutics, as a voting member of the historic Pharmacy Practice Model Initiative (PPMI) Summit, as a member of the 2012-2013 Task Force on Organizational Structure, as a delegate to the House of Delegates, and as vice president of the West Virginia Society of Health-System Pharmacists (WVSHP). Slain has also served as a postgraduate year 2 residency program director for over 20 years.
Pharmacy is a noble profession that is strengthened by our collective efforts, which are shared, fostered, and enhanced through engagement with national associations like ASHP. When I look at our profession with a strategic lens of a SWOT (strengths, weaknesses, opportunities, and threats) analysis, I like our chances for continued success. During my career, I have witnessed a resiliency in our profession that has been able to address many challenges to our mission to provide optimal and safe medication use.
Healthcare needs remain top of mind for many people. As we emerge from a global pandemic, we are also in a time where the large "baby boom" generation has significant medication needs. These needs can be even greater during transitions of care. I would like to see pharmacists take on an even larger role in caring for patients across all care settings. A few other areas that ASHP should continue to address are:
Promoting pharmacy careers to ensure a healthy pipeline of talented future pharmacists.
Developing a vibrant and well-trained technician workforce.
Promoting an environment that values diversity and is inclusive for our members and patients.
Advocating for a reliable medication supply chain.
Promoting medication safety, effectiveness, and affordability.
I am grateful for having the opportunity to serve ASHP and its members in a greater role. I am happy to provide my experience as a clinician, educator, and leader to help us to deliver the best opportunities for our membership, the profession, and the patients that we serve.