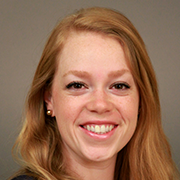 Erica Diamantides, PharmD, MHA, BCPS ([email protected]) is the system director, specialty pharmacy services for Tufts Medicine in Boston, MA where she oversees the specialty pharmacy and medication access services across the health system. Diamantides earned her PharmD from Northeastern University, followed by a health-system pharmacy administration and leadership two-year residency at the University of Washington (UW) Medicine combined with a Master of Health Administration (MHA) from the University of Washington. She has experience in specialty pharmacy leadership, medication access services, accreditation, clinical pharmacy practice management, and pharmacy teaching.
Diamantides is currently director-at-large of the Section of Specialty Pharmacy Practitioners (SSPP) Executive Committee. Other ASHP involvement includes serving as a member of the Section of Pharmacy Practice Managers Section Advisory Group (SAG) on Leadership Development and participation in the SSPP SAGs since inception of the section. She serves on the ASHP Foundation Forecast survey panel, coauthored publications in AJHP on specialty pharmacy (2020, 2021) and leadership (2018), serves as an AJHP manuscript reviewer, editor of the ASHP Specialty Pharmacy Competency Assessment Center, and is a frequent presenter at ASHP meetings.
I have been inspired by the care that our pharmacists, pharmacy technicians, and clinical teams within health-system specialty pharmacies provide to patients on specialty medications across the care continuum despite the barriers posed to patients, and the health systems supporting them, in accessing these essential therapies. The challenges, like patient choice for delivery of pharmacy services, limited distribution models, collection and analysis of outcomes data, and demonstrating the value of health system specialty pharmacy services are priority areas for us to focus on. ASHP's Section of Specialty Pharmacy Practitioners gives us the platform to collaborate and strategize the most effective ways for us to leverage our collective experience and break these barriers to access down.
Thank you for the honor of this nomination. If elected, I look forward to advocating for the health-system role and value in delivery of high-quality specialty pharmacy care, facilitating the sharing of best practices across ASHP, supporting alignment in how our specialty pharmacies collect and disseminate data related to our patients' outcomes, and promotion of the specialty pharmacists' and pharmacy technicians' roles in patient's care. Together we can improve our patients' access to specialty medications.