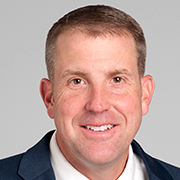 Jeffrey Chalmers, PharmD ([email protected]) is the senior director of pharmacy informatics and technology for the Cleveland Clinic Health System. He leads teams that support pharmacy automation and technology, as well as the medication management tools within the enterprise electronic medical record in both the inpatient and ambulatory environments. His teams support 15 hospitals in Ohio and Florida in addition to the services at Cleveland Clinic Abu Dhabi and London. His responsibilities include support for 29 retail pharmacies, and nearly 1000 ambulatory clinics and surgery centers.
Dr. Chalmers earned his bachelor's degree in pharmacy from the University of Toledo and his PharmD from the University of Florida. He is an adjunct faculty member at Northeast Ohio Medical University teaching classes in pharmacy informatics.
Dr. Chalmers prides himself as an informatics pharmacist with expertise in clinical decision support, data analytics, inventory management, and the use of artificial intelligence to improve caregiver efficiency. He created the Cleveland Clinic pharmacy informatics PGY2 residency program in 2013, illustrating his passion for pharmacy informatics and his desire to give back to the profession. He served as the residency program director until 2018.
Within ASHP, Dr. Chalmers served as a section advisory group member as well as the vice chair of Clinical Information Systems SAG in 2015-16 and the chair for the 2016-17 year. He has served on the executive committee for the section as the director at large-elect and director at large from 2020 to the present. He is a frequent presenter at ASHP Midyear Clinical and Summer meetings as well as other meetings and conferences.
We often say that medications are the one aspect that follows a patient through every phase of their healthcare. Similarly, technology is becoming an aspect of pharmacy practice that is a point of focus in every pharmacy setting. Pharmacists with expertise in these systems are called upon more often than ever to make sure we are utilizing these technologies appropriately, safely, and effectively.
The explosion of generative artificial intelligence has again put the spotlight on technology in healthcare as we determine how these tools should be utilized in patient care. Labor shortages have also caused pharmacies to examine how any technologies may increase efficiencies for the department. From automation tools to speed up repetitive processes, to delivery robots, to increasingly complex rules built in our electronic medical records to drive workflows we continue to be at the center of decision making for these key technology advancements and changes with our organizations.
The Section of Pharmacy Informatics and Technology plays a key role in development of guidance and policy to assist pharmacists across the country to make informed decisions relating to how technology is being used in their departments. I have been fortunate to be part of the section for over ten years serving on committees, advisory groups, and the executive committee to help complete projects to help our section continue to provide the most up to date information on technology related concepts. It would be an honor to continue this work as the chair of our section through this next exciting phase of healthcare technology.