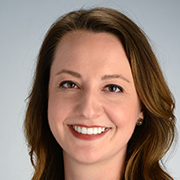 Katherine (Kat) A. Miller, PharmD, MHA, DPLA, FASHP ([email protected]) is senior director for acute care pharmacy and clinical nutrition and the residency programs executive at The University of Kansas Health System, in Kansas City, Kansas. She received her Doctor of Pharmacy degree from the University of Wisconsin – Madison School of Pharmacy and her Master of Health Administration from Simmons College. She completed PGY1 pharmacy practice and PGY2 health-system pharmacy administration residencies at Oregon Health and Sciences University.
Dr. Miller has served ASHP as the chair of the Council of Pharmacy Management, the chair of the Section of Pharmacy Practice Leaders (SPPL) Advisory Group on Innovation Management, member on the SPPL Advisory Group on Manager Development, and chair of the New Practitioners Forum Advisory Group on Leadership and Career Development. Dr. Miller is currently faculty for the ASHP Foundation Pharmacy Leadership Academy. She has served on the board of directors for three state ASHP-affiliates including as president of the Kansas Council of Health-System Pharmacy.
As healthcare continues to evolve post-pandemic, pharmacy has an opportunity to showcase our strengths as we grow as a profession. Better yet, we will continue to identify the gaps in healthcare and expand our roles as medication experts and healthcare providers to fill that gap. However, this future is at risk due the expansion of our pharmacy roles being intersected by declining rates of pharmacy student enrollment and a lack of pharmacy technician training programs. Increasing and improving our workforce pipeline must become a priority while still focusing on innovative practices to allow all pharmacy members the ability to perform at the top of their license.
If elected, I would like to see the section continue to push the envelope with the issues we tackle. Diversity, equity and inclusion, advocacy, and pharmacy workforce and practice are three hot topics in the pharmacy world today. They are identified as components of both the ASHP and SPPL Strategic Plan and I believe the SPPL has the right people at every level to tackle these issues head on.
During my five-year tenure on the board of directors for the Kansas Council of Health-System Pharmacy, I have been a leader in local efforts to target these issues. Continued engagement in these and other strategic topics at the national level will allow me to support more broadly the growth of the pharmacy profession. I am honored to be considered for chair of the SPPL.