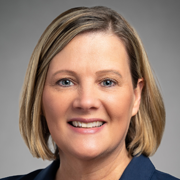 Kristine (Kristi) K. Gullickson, PharmD, MBA, DPLA, FASHP, FMSHP ([email protected]) is director of pharmacy at Abbott Northwestern Hospital, part of Allina Health in Minneapolis, Minnesota. She is responsible for inpatient, infusion, and ambulatory pharmacy services with additional system-level responsibility for Allina Health pharmacy operations and oncology. She is the residency program director for the hospital's health-system pharmacy administration & leadership (HSPAL) postgraduate year 2 residency program and has precepted residents and leadership students for over 25 years.
Kristi received her Bachelor of Science in pharmacy and Doctor of Pharmacy from North Dakota State University. She completed a pharmacy practice residency at Abbott Northwestern Hospital and earned a diploma from the ASHP Pharmacy Leadership Academy. She received her MBA in healthcare administration from New England College.
Kristi currently serves ASHP as faculty, Manager Boot Camp and delegate, House of Delegates. She previously served as chair, Section of Pharmacy Practice Leaders (SPPL) Executive Committee; chair, Council on Pharmacy Practice; member, SPPL section advisory groups; member, multi-year House of Delegates; contributor, ASHP Leadership Basics Certificate; ASHP expert panel member for the ASHP Guidelines on Preventing Diversion of Controlled Substances and the ASHP/APhA Medication Management in Care Transitions project. Kristi is a past president of the Minnesota Society of Health-System Pharmacists (MSHP) and currently represents MSHP on the Minnesota Pharmacy Alliance practice advocacy group. Kristi is a Fellow of ASHP and MSHP and was awarded the MSHP Hallie Bruce Memorial Lecture Award, Minnesota's highest honor, in 2020.
Health systems are facing significant volatility with negative operating margins, workforce shortages, payer mandates, legislative threats, and disruptors. There is no better time to differentiate our profession's unique contribution to improving health outcomes and driving value recognized by patients, payers, and policymakers. My vision for pharmacy practice is to leverage evolving care delivery models to improve access to pharmacists and pharmacy team services, transform pharmacist scope of practice, and advance the professionalization of our technician workforce. We will inspire compassion, service, and inclusion in our profession through connection and service to our community. We will collaborate through team-based care models and integrate into population health and payer contracts to improve health outcomes and reduce total cost of care.
ASHP has been my external compass for over 30 years, serving as my professional home. ASHP continues to lead with innovative best practices and policy guidance, advocacy and public policy, and incredible peer networking support that is truly second to none. It is critical that ASHP continues to collaborate with its members to advance priorities, including pharmacist provider status, improving access to equitable care and medications, supply chain integrity, 340B preservation, diversity, inclusion, and resilience and partner to revitalize efforts to recruit and retain our salient workforce for the future. Thank you for the honor of receiving this nomination. I would be grateful for the opportunity to serve on the ASHP Board.