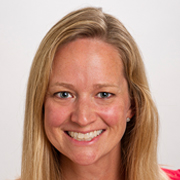 Megan A. Corrigan, PharmD, MPH, BCPS, FASHP ([email protected]) is the director of pharmacy and emergency management at Advocate Good Samaritan Hospital in Illinois. Corrigan received her PharmD from Midwestern University and her Master in Public Health from Benedictine University. Corrigan completed her PGY1 residency at Rush University Medical Center and her PGY2 in emergency medicine at Detroit Receiving Hospital. Additionally, Corrigan was recognized as a Fellow of ASHP in 2023. Corrigan is active in the field of public health at the local level within the Department of Public Health, sitting on the Opiate Task Force, as well as serving on a federal disaster response team nationally. Corrigan has a passion for emergency preparedness and has spoken nationally on the pharmacist role in emergency preparedness. Corrigan has been active in ASHP by serving on the Council on Therapeutics, the Section Advisory Groups for Emergency Medicine and Clinical Leadership. In addition, Corrigan co-authored ASHP's Statement on the Role of the Pharmacy Workforce in Emergency Preparedness. Corrigan is also an active member of the Illinois Council of Health-System Pharmacists, currently serving as the Director of Professional Affairs, and serves as an Illinois representative to the ASHP House of Delegates.
I shine with pride for the pharmacy workforce, and its practice advancement over the last several years. The pharmacy workforce demonstrated patient care improvement when the world needed our expertise. With obstacles like drug shortages, burnout, and tight budgets at seemingly every turn, we continue to offer creative solutions, practice at the top of our licenses, and improve patient care.
I'm a firm believer in taking initiative - not waiting to be asked, but to volunteer first. From traveling the globe for medical missions, to running emergency management at my hospital, I welcome the opportunity to advocate for pharmacy and share our abilities. We are problem solvers; agile, innovative, and full of passion. At the crossroads of opportunity and innovation, we continue to exceed expectations and marry scientific knowledge with clinical practice.
Throughout these uncertain times, ASHP has been a stalwart leader, shepherding its members by providing support, education, and a platform for exchanging ideas and information. ASHP continues to partner with aligned organizations to advance the profession and champion provider status. My diverse experiences, including those within ASHP and at the state level, make me an optimal candidate to serve as the director-at-large of the section. It would be my honor to embrace the changes that lie ahead and promote the profession through continued educational programming and partnerships across healthcare. Most of all, I will be the first to volunteer (not wait to be asked) to applaud the efforts and share the success stories of my pharmacy colleagues.