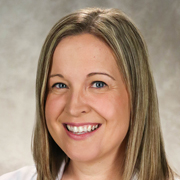 Megan Musselman, PharmD, MS, BCPS, BCCCP, DPLA, FASHP, FCCP ([email protected]) is an emergency medicine clinical pharmacy specialist and PGY2 emergency medicine pharmacy residency program director at North Kansas City Hospital. She received her PharmD from Creighton University and went on to complete her PGY1 at the University of Illinois Medical Center at Chicago and her PGY2 emergency medicine pharmacy residency at the Detroit Receiving Hospital, where she served as chief resident.
Musselman currently serves on the Section of Clinical Scientists and Specialists Clinical Leadership Section Advisory Group. She has previously served on the Clinical Scientists and Specialists Section Advisory Group on Emergency Medicine and as the Emergency Care Network facilitator and a former director-at-large of the section. She is also an active member of the Missouri Society of Health-System Pharmacists, currently serving on the Research and Education committee. She is also a past treasurer and chair of the Education and Programing Committee.
I am honored for the opportunity to serve as chair of the Section of Clinical Scientists and Specialists. In the years I have actively been involved within the section, I have seen the amount of growth and advocacy that ASHP has done for its members and, most importantly, to advance our profession. When working with ASHP, the possibilities are endless with respect to developing programming and resources for all facets of the profession. I am fortunate to have been at the ground level of some of these endeavors during my time on the section advisory group. During my tenure, we developed a recorded pharmacist series to enhance knowledge within the profession and created a podcast that provided micro-continuing education credits for the membership.
If elected, I would follow the direction of ASHP and put its members first and foremost while advocating for practice advancement. I would serve as the membership's voice and promote active collaboration, information exchange, and further promotion of diversity, equity and inclusion. I hope to use my prior experiences within the section to drive practice improvement and active engagement of the membership, with a particular focus on member wellbeing. I will work to provide value change to the profession focusing on the totality of the person -- taking care of ourselves so we can better serve our patients. I greatly appreciate the opportunity to continue to serve ASHP and the members of the section.