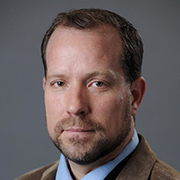 Thomas G. Wadsworth, PharmD, BCPS ([email protected]) is a highly accomplished pharmacist with over 20 years of experience in community, clinical, and academic pharmacy practice and research. He is deeply committed to improving access and quality of all pharmacy services, including pharmacist provided healthcare services.
Dr. Wadsworth is an associate professor of pharmacy practice and administration, and executive associate dean at Idaho State University College of Pharmacy. He served as assistant clinical professor and primary care pharmacist at St. Luke's Internal Medicine in Boise, Idaho. With his extensive knowledge of health education and rural health issues, Dr. Wadsworth has been instrumental in developing innovative strategies to improve the delivery of pharmacy services to remote and underserved communities. He owned and operated three community pharmacies in Idaho for 10 years, where he was among the first to offer telepharmacy services to rural communities.
In addition to his academic and community pharmacy work, Dr. Wadsworth is the principal investigator of the SETMuPP demonstration initiative, which aims to mobilize community and primary care pharmacists to provide sustainable preventative and health management services to Alaskans with diabetes and/or cardiovascular disease. Dr. Wadsworth is board certified in pharmacotherapy and licensed in both Alaska and Idaho.
Dr. Wadsworth's wealth of experience in community pharmacy, clinical pharmacy, and advocacy work, combined with his passion for improving access to pharmacy services, make him a respected and influential figure in the field of pharmacy.
As a highly trained healthcare expert, pharmacists possess specialty-level medication management skills and play a crucial role in patient care. However, outdated regulatory models often underutilize them, despite their ability to provide healthcare ranging from managing complex medication regimens to providing timely and accessible treatment to the underserved.
My philosophy of pharmacy practice centers on promoting sustainable business models that increase patient access to pharmacist healthcare services. To achieve this, we must adopt policies that recognize pharmacists as rendering providers in primary care and community pharmacy settings. However, many regulatory, administrative, and dogmatic barriers prevent pharmacists from contracting with commercial and state health plans.
To support pharmacists and ensure the highest standards of care, we must provide ongoing education and professional development opportunities. This requires creating accessible resources and practical solutions that empower pharmacists to become literate in medical billing and implement new practice models. Additionally, we must prioritize the training of future pharmacists by investing in pharmacy education programs that provide comprehensive and innovative training.
By partnering with national, state, and local professional associations, state and federal regulatory boards, and schools of pharmacy, we can unify the voice of pharmacy and advocate for the inclusion of pharmacists in healthcare plans. This will promote the expansion of pharmacist providers in primary care and community settings and increase public awareness of their important role in patient care.
In summary, promoting the highest standards of care in pharmacy practice requires a multifaceted and persistent approach. By supporting ongoing education and professional development, investing in comprehensive pharmacy education programs, creating accessible resources and practical solutions, and unifying the voice of pharmacy, we can ensure that pharmacists are equipped to provide the highest quality care to their patients.