The Leading Provider of Sterile and Nonsterile Compounding Resources
Compounding is an essential part of pharmacy practice and crucial for patients who are unable to use commercially available formulations of medications. Applying new standards and understanding the risks associated with compounding is a critical aspect of medication and patient safety.
The United States Pharmacopeia (USP) provides guidelines that inform pharmacies on best practices. They recently published their latest revisions to the compounding USP chapters <797> and <795>, which will be made official on November 1, 2023. As the leading provider of sterile and nonsterile compounding resources in the industry, we are dedicated to providing our members and customers with timely, accurate, and complete information that incorporates the new standards.
2023 USP Chapter <797> and <795> Revisions
ASHP has compiled the following documents to help inform pharmacies on the USP <797> and <795> changes and as assets to be used during implementation of the new standards to ensure compliance prior to the November 1, 2023 deadline. Resources accompanied with the lock symbol.

are exclusively for ASHP members. If you are not currently a member, join today to access these documents.
USP Chapter <797>

USP Chapter <795>

Persons Responsibilities

New Compounding Resources and Products
Below find the latest ASHP products that can be used to help you or your pharmacy staff prepare and implement the new USP <797> and <795> standards. ASHP is the leading provider of sterile and nonsterile compounding resources and we are dedicated to provide timely and important information to our members and customers.
Product use categories:
Sterile,

Nonsterile,

Hazardous,

Institutional

---
View All Compounding Resources & Products
Meetings and Conferences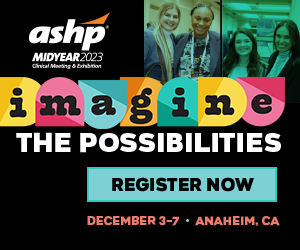 The 2023 ASHP Midyear Clinical Meeting offers clinical programming in multiple areas, including almost 10 hours of continuing education on Sterile Product Compounding. Featured sessions include:
2023 Sterile Compounding Updates from The Joint Commission
Focus on Compounding and Administration — Pharmacy and Nursing Safe Practices
Compounding ABCs: Following Categories 1, 2, and 3
A Shortage Crisis: IV Compounding Automation Success Story
Would've Should've Could've: Training Pharmacy Compounders Correctly the First Time
Out of Sight, Out of Mind: Risks of Sterile Compounding Inside the Operating Room
We've Got All This Data — Now What? Best Practices for Tracking, Trending, and Responding to Environmental Monitoring Data
Learn more about these and other can't-miss Midyear sessions at midyear.ashp.org. Customize your schedule with the Session Itinerary Planner to search by day, time, topic, audience, etc
Stay Informed!
Sign Up For Our Free Compounding Digest For News and Updates.