AHFS Drug Information®
AHFS DI is the most comprehensive evidence-based source of drug information complete with therapeutic guidelines and off-label uses. With expanded and revised content supported by more than 97,000 references and incorporating the advice of numerous subject matter experts, AHFS DI helps you protect your patients.
Benefits that are unique to AHFS DI include:
The only remaining original federal compendium whose authority for establishing accepted medical uses includes the broadest scope of drugs and indications under Medicaid, Medicare Part D, and more.
The only drug information resource with content developed by a professional editorial and analytical staff of pharmacists for a not-for-profit scientific organization.
2022 Edition Updates
Drug information for COVID-19 vaccines and COVID-19 monoclonal antibodies available under FDA Emergency Use Authorizations (EUAs), including clinical considerations from the US Centers for Disease Control and Prevention (CDC), National Institutes of Health (NIH), and other authorities
Breakthroughs in oncology approved under the FDA's accelerated approval program
Expanded content on off-label uses, real-world data, and long-term clinical data
Information on patient selection and appropriate use of corticosteroids in the management of COVID-19 based on recent guidelines from NIH and the World Health Organization (WHO)
Contemporary issues such as anticoagulant reversal strategies and use of direct oral anticoagulants versus warfarin for treatment of venous thromboembolism or atrial fibrillation
+ View all updates
Current best practices such as reversal of neuromuscular blocking agents for prevention of postoperative residual neuromuscular blockade
Updated information on pharmacogenomic considerations based on recommendations from the Clinical Pharmacogenetics Implementation Consortium (CPIC)
New content on 51 new molecular entities (NMEs) or new therapeutic biological products approved since January 2021
AHFS All Access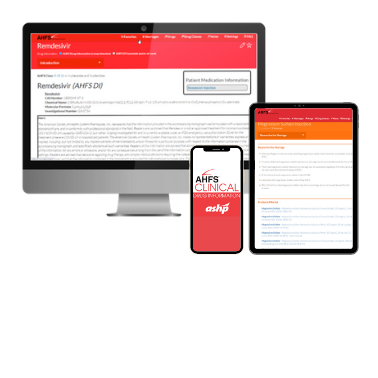 Your purchase of AHFS Drug Information 2022 contains both the print book and access to online content including:
Electronic Only Monographs
Each edition includes additional online monographs, which are updated throughout the year, and can be found on the For Subscribers section of ahfsdruginformation.com. The password can be found in the preface of the printed edition.
AHFS Clinical Drug Information App- Now Included!
Your purchase of AHFS DI print includes a 1-year subscription to AHFS CDI App, our digital drug content that seamlessly incorporates current drug shortages information and real-time drug and safety updates. You can easily switch between concise, direct point-of-care, actionable drug information with AHFS DI Essentials, or the full database contents of AHFS Drug Information. AHFS CDI is consistently updated throughout the year as new therapies are available. AHFS Print + CDI Access is available for individual purchase only.
...includes a collection of drug monographs for virtually every single drug entity available in the U.S. Jennifer L. Colon, PharmD, MS, MBA
...access quickly and easily, the specific guidance needed to prescribe and monitor drug therapy safely and effectively. Laurence A. Goldberg