AHFS Drug Information®
AHFS® DI® is the most comprehensive evidence-based source of drug information complete with therapeutic guidelines and off-label uses. With expanded and revised content supported by more than 94,000 references and incorporating the advice of numerous subject matter experts, AHFS DI helps you protect your patients.
AHFS is the only drug information resource with content developed by a professional editorial and analytical staff of pharmacists for a not-for-profit scientific organization and the only remaining original federal compendium whose authority for establishing accepted medical uses includes the broadest scope of drugs and indications under Medicaid, Medicare Part D, and more.
2021 Edition Updates
Drug information for COVID-19-related treatments, including use of antiviral agents such as remdesivir, SARS-CoV-2-specific monoclonal antibodies (e.g., sotrovimab, casirivimab and imdevimab), as well as use of supporting agents such as corticosteroids, immune globulin, nitric oxide, and tocilizumab
Updated information on drugs commonly used for ICU sedation in critically ill patients with COVID-19, including propofol, dexmedetomidine, and midazolam and alternative drugs such as ketamine considered in potential drug shortage situations
Latest oncology therapies for the treatment of cancers associated with activating gene mutations and oncogenic gene fusions
Breakthroughs in oncology approved under the FDA's accelerated approval program
New information on non-oncology off-label uses
+ View all updates
Recommendations from current HIV guidelines for use of antiretroviral agents, including new fixed-combination antiretroviral products
Revision of antiviral agents used to treat hepatitis C infections based on current guidelines
Improved information on oncology off-label uses (e.g., endocrine therapy in combination with ovarian suppression for the adjuvant treatment of early-stage hormone receptor-positive breast cancer in premenopausal women)
Latest safety updates based on MedWatch alerts (e.g., warning for cyclin-dependent kinase [CDK] inhibitors regarding interstitial lung disease/pneumonitis; risk of serious bowel problems with clozapine; serious, life-threatening, or fatal respiratory depression with gabapentin and pregabalin; stronger warning regarding risk of neuropsychiatric effects with montelukast)
Expansion of the current guidance on making use of naloxone more widely available to high-risk individuals for opioid overdose
Addition of new monograph for bremelanotide for the treatment of hypoactive sexual desire disorder in premenopausal women
AHFS All Access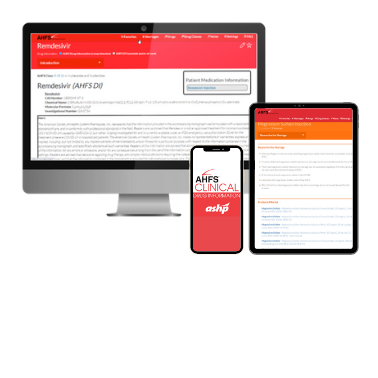 Your purchase of AHFS Drug Information 2021 contains both the print book and access to online content including:
Electronic Only Monographs
Each edition includes additional online monographs, which are updated throughout the year, and can be found on the For Subscribers section of ahfsdruginformation.com. The password can be found in the preface of the printed edition.
AHFS Clinical Drug Information App- Now Included!
New in 2021 your purchase of AHFS DI print includes a 1-year subscription to AHFS CDI App, our digital drug content that seamlessly incorporates current drug shortages information and real-time drug and safety updates. You can easily switch between concise, direct point-of-care, actionable drug information with AHFS DI Essentials, or the full database contents of AHFS Drug Information. AHFS CDI is consistently updated throughout the year as new therapies are available. AHFS Print + CDI Access is available for individual purchase only.
...includes a collection of drug monographs for virtually every single drug entity available in the U.S. Jennifer L. Colon, PharmD, MS, MBA
...access quickly and easily, the specific guidance needed to prescribe and monitor drug therapy safely and effectively. Laurence A. Goldberg