AHFS Drug Information®
2020, 2021, 2022, 2023 Doody's Core Titles List Selection I 5-Star Rating from Doody's Review Service
AHFS DI is the most comprehensive evidence-based source of drug information complete with therapeutic guidelines and off-label uses. With expanded and revised content supported by more than 97,000 references and incorporating the advice of numerous subject matter experts, AHFS DI helps you protect your patients.
Benefits that are unique to AHFS DI include:
The only remaining original federal compendium whose authority for establishing accepted medical uses includes the broadest scope of drugs and indications under Medicaid, Medicare Part D, and more.
The only drug information resource with content developed by a professional editorial and analytical staff of pharmacists for a not-for-profit scientific organization.
2023 Edition Updates
Clinical perspective sections that include place of therapy discussions and recommendations from therapeutic guidelines
The latest information on the changing landscape of predominant COVID-19 subvariants and its effects on COVID therapeutics, including updated mRNA vaccine formulations, changes in emergency use authorization (EUA) status, and updated recommendations from the Infectious Diseases Society of America (IDSA), and the National Institutes of Health (NIH)
Contemporary topics such as new RSV treatments and vaccines, safety issues associated with the glucagon-like peptide 1 (GLP-1) agonists, novel orphan drugs, biosimilars, and more
Inclusion of Standardize4Safety concentration standards for IV and oral liquid drugs
+ View all updates
New content on gene therapies for the treatment of cancers and certain inherited disorders
The latest information from FDA safety communications regarding opioid pain medications and stimulant drugs
Newly published information on breakthrough oncology drugs approved as part of the FDA's accelerated approval program
Expanded content on off-label uses, real-world data, and long-term clinical data
Updated information on pharmacogenomic considerations based on recommendations from the Clinical Pharmacogenetics Implementation Consortium (CPIC)
Addition of 60 new molecular entities (NMEs) or new therapeutic biological products approved since January 2023
AHFS Clinical Drug Information App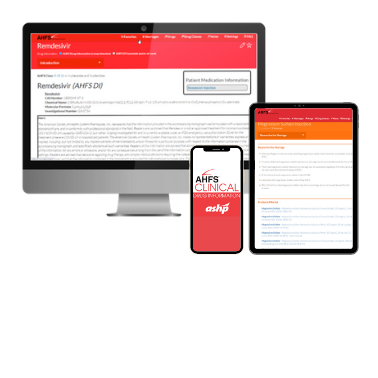 AHFS CDI expands your access to real-time drug and safety updates by linking directly and in context to 20 additional specialty databases. Easily switch between concise, direct point-of-care, actionable drug information with AHFS DI Essentials, or the full database contents of AHFS Drug Information.
With AHFS CDI you can:
Have constant access to all the latest updates— including drug shortages information
Toggle between a quick summary of essentials and a comprehensive monograph
Review compatibility matrices for patient care at the bedside
View seamlessly incorporated FDA safety data
...includes a collection of drug monographs for virtually every single drug entity available in the U.S. Jennifer L. Colon, PharmD, MS, MBA
...access quickly and easily, the specific guidance needed to prescribe and monitor drug therapy safely and effectively. Laurence A. Goldberg