This podcast provides an engaging interview with two pharmacy leaders who have had successful careers and contributed significantly to health system professional associations. This special edition of ASHP's podcasts recognizes Father Day and the special role fathers have at work and at home and includes the children of our pharmacy leaders as moderators.
SPEAKERS

Matthew W. Eberts is Director, Pharmacy Services at Lancaster General Health Penn Medicine. He is a past president of PSHP and an active member of ASHP. At LGH his responsibilities include Lancaster General Hospital, Women and Babies Hospital, cancer and infusion centers, retail pharmacies, and ambulatory pharmacy services. Matt has published and presented nationally on a variety of subjects. He is the father of 3 future podcast hosts.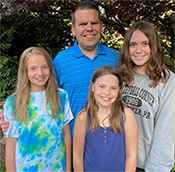 Jeff Little, Pharm.D., MPH, BCPS, FACHE, FASHP, is Director of Pharmacy at Saint Luke's Hospital in Kansas City, Missouri. Dr. Little received his PharmD from the University of Kansas School of Pharmacy and his Master of Public Health from the University of Pittsburgh. He completed a combined PGY1/PGY2 health system pharmacy administration residency at the University of Pittsburgh Medical Center. He currently serves as Chair of the ASHP Section of Pharmacy Practice Leaders Executive Committee.
HOST
David Chen is the American Society of Health-System Pharmacists' Assistant Vice President for Pharmacy Leadership and Planning. ASHP represents more than 58,000 members include pharmacists, student pharmacists, and pharmacy technicians. His role with ASHP includes coordinating efforts of ASHP members in advocacy, education on pharmacy leadership, continuity of care, manager development, reimbursement rules & regulations, specialty pharmacy, and multi-hospital health systems. His responsibilities include staff liaison to ASHP's Section of Specialty Pharmacy Practitioners, Section of Pharmacy Practice Leaders, and Pharmacy Executive Leadership Alliance.
The information presented during the podcast reflects solely the opinions of the presenter. The information and materials are not, and are not intended as, a comprehensive source of drug information on this topic. The contents of the podcast have not been reviewed by ASHP, and should neither be interpreted as the official policies of ASHP, nor an endorsement of any product(s), nor should they be considered as a substitute for the professional judgment of the pharmacist or physician.