This podcast will discuss the development, implementation, barriers and successes surrounding starting a new substance use disorder clinic.
SPEAKERS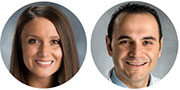 Dr. Elena Kline and Dr. Adam Shammami are core faculty members within the Troy Beaumont Family Medicine Residency Program. Together they authored a grant proposal for the development of a Substance Use Disorder (SUD) Clinic within the Family Medicine Center, which was awarded $493,325 for development and implementation. Dr. Kline is the Ambulatory Care Clinical Pharmacy Specialist and SUD Clinic Program Director, and Dr. Shammami is a Faculty Physician with extensive experience in Addiction Medicine, and therefore serves as the Medical Director for this specialty, fully-licensed clinic.

Zach Weber, PharmD, BCPS, BCACP, CDE is the Director of Interprofessional Education and Clinical Associate Professor of Pharmacy Practice for Purdue University College of Pharmacy and the Assistant Dean for Programming with the Indiana University Interprofessional Practice and Education Center. He received his PharmD degree from Purdue University and completed a PGY1 Pharmacy Practice residency at the Roudebush VA Medical Center in Indianapolis, IN followed by a PGY2 Ambulatory Care Specialty residency at Duke University Hospital in Durham, NC. He is a board-certified pharmacotherapy and ambulatory care specialist, and a certified diabetes educator. Dr. Weber is a past Chair for the American Society of Health-System Pharmacists (ASHP) Section Advisory Group on Compensation and Practice Sustainability and is the current Chair for the ASHP Section of Ambulatory Care Practitioners Executive Committee.
The information presented during the podcast reflects solely the opinions of the presenter. The information and materials are not, and are not intended as, a comprehensive source of drug information on this topic. The contents of the podcast have not been reviewed by ASHP, and should neither be interpreted as the official policies of ASHP, nor an endorsement of any product(s), nor should they be considered as a substitute for the professional judgment of the pharmacist or physician.