Become a Certified Pharmacy Executive Leader (CPELSM)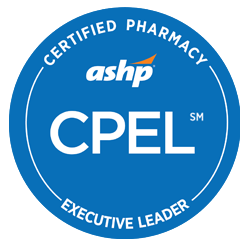 ASHP's new Certified Pharmacy Executive Leader (CPELSM) credential acknowledges your unique expertise as a pharmacy executive leader and communicates your value to colleagues, healthcare administrators, other health care professionals, and the public.
The CPELSM credential provides national recognition of core competencies in professionalism, leading people, leading the pharmacy enterprise, and leading within and across complex health care systems. The CPELSM also demonstrates your commitment to achieving and maintaining excellence in pharmacy leadership.
To apply for the CPELSM credential, candidates must meet all of the eligibility criteria and complete an online application (coming in October 2021).
Approved candidates will participate in an in-person capstone at ASHP. The capstone is the final required step in the CPEL Certification process to earn your CPELSM credential. During this in-person program at ASHP, candidates will engage in facilitated case discussions with colleagues to demonstrate their acumen in the CPELSM core competencies. Upon successful completion of the capstone, candidates will be awarded the CPELSM.
Online application opens in fall 2021.
Opt in to be notified when the application opens and to be included in future CPELSM communications.
Eligibility Criteria
To be considered for the CPELSM, applicants must meet the following criteria:
Current ASHP member at the time of application (with sustained membership throughout the certification period);
A valid and unrestricted license as a pharmacist in the U.S. or another jurisdiction.
Graduation from a pharmacy program accredited by the Accreditation Council for Pharmacy Education (ACPE) or a program outside the U.S. that qualifies the individual to practice in the jurisdiction.
Completion of an ASHP-accredited pharmacy residency OR a current BPS certification OR documentation of equal experience and qualifications;
Documentation of core competencies outlined in the CPELSM domains OR a Masters or other qualifying degree (e.g., MS in pharmacy, MBA, MHA, MPH, etc.) OR completion of the Pharmacy Leadership Academy.
Minimum of 5 years including current leadership experience with significant managerial oversight in an organization that provides patient care.
Reference from a senior health system executive affirming CPELSM experience/oversight requirements.
Documentation of current (within past year) volunteerism in healthcare-related organizations.
Request for Public Comment on ASHP Certified Pharmacy Executive Leader Competencies
ASHP welcomes comments on the core competencies for the new Certified Pharmacy Executive Leader (CPELSM) credential. The CPELSM Competency Framework was developed by ASHP and the Certified Pharmacy Executive Advisory Group and outlines essential professional and leadership competencies required to obtain and maintain the CPELSM.
The ASHP CPELSM Competency Framework outlines essential professional and leadership competencies. The essential professional competencies are those related to being a pharmacist. These competencies are not exhaustive, rather they are key areas where maintenance of knowledge and skills is required for their effectiveness in leading self, others and the enterprise. The CPELSM includes twenty-seven leadership competencies, the attitudes, advanced knowledge and skills (KSAs) essential to lead self, people and the enterprise.
ASHP requests feedback on the competencies by 9:00 a.m. ET on Wednesday, September 8.