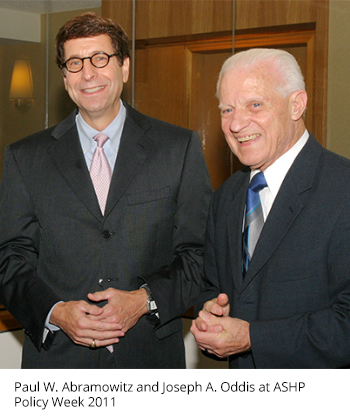 On Wednesday, Feb. 24, 2021, the Oddis family, pharmacy, and ASHP lost a true legend and exceptional human being.
Joseph A Oddis was larger than life in many ways, but was also one of the most personable individuals I have ever met. He took a sincere interest in people, which included his family, ASHP members and staff, and many within the pharmacy and broader Washington, DC, community. You never felt rushed or just part of a crowd with Joe; he cared about every person around him, and his sincerity and authenticity were palpable.
Dr. Oddis was a visionary, and he inspired others to do great things on behalf of patients and the profession. He created ASHP's diverse and people-centric culture, and focused the organization on science and doing what is right for the patient. He knew that the valuable roles pharmacists play as medication-use experts would follow in sequence: science, patient, team, and pharmacist. Doing the right thing for patients and ASHP members was always what mattered most, and I believe his science and patient-first approach helped define the culture of hospital and health-system pharmacy practice in the United States and around the world.
I still recall my immediate impressions of Dr. Oddis at our first meeting 35 years ago. I was struck by his presence, kindness, passion, and clear vision for the pharmacy profession. He was a striking figure that stood out in a room, and was someone that everyone wanted to speak to and learn from. He always pushed the envelope in order to get pharmacists closer to the patient and healthcare team. He envisioned clinical pharmacy, post-graduate residency training, and pharmacy technician training before these were popular concepts in the profession. He believed in the roles pharmacists must play in our society, and also believed that pharmacy technicians were capable of so much more and could be more effectively deployed. He inspired all of us to share in his vision, and we ardently wanted to be part of achieving it.
When I joined the ASHP Board of Directors and was later elected ASHP president, Dr. Oddis became a mentor, and someone I would turn to frequently for advice. When I became CEO of ASHP in 2012, he remained one of my most trusted advisors until his passing. He had seen and experienced a great deal throughout his career, and was one of the major architects of contemporary pharmacy practice. He always believed that pharmacists had a special calling, and that ASHP could make major contributions to patient care, the pharmacy profession, public health, and society at large. He was guided by these beliefs over his 37-year career at ASHP, and beyond his retirement in 1997. Dr. Oddis was an unrelenting force for good, and never stopped thinking about ways that pharmacists could make a difference.
Dr. Oddis remained a presence at ASHP until the COVID-19 pandemic, periodically visiting with members and staff at ASHP headquarters. Our previous headquarters building and current offices were named in his honor, something he neither wanted nor requested. However, well over a decade after he retired, members, staff, and others felt strongly that ASHP and Dr. Oddis were synonymous with one another, and should remain so into perpetuity.
Trying to paint a full picture of Dr. Oddis is nearly impossible given how much he personally contributed to our patients and practice. He was one of those people whom you immediately knew was special and was put here for a purpose. ASHP and the pharmacy profession benefited immensely from his presence and leadership, and we are all directly or indirectly better because of his many selfless contributions.
I know I speak for everyone who knew Dr. Oddis when I say we will miss him. As ASHP approaches its 80th anniversary, we know that he is — and always will be — part of the organization's culture and DNA. What he built at ASHP is the foundation and structure from which we still evolve and grow, ensuring we are prepared to meet the opportunities and challenges of the 21st century. Dr. Oddis's vision for ASHP and pharmacy was clear on the day he arrived as CEO in 1960 and never wavered. He always had his eyes on the horizon and on shaping the future of our profession. He was never surprised by ASHP's continued growth, success, and influential position. He set out to help pharmacy do great things for patients, and to build a professional organization that would meet the needs of pharmacy professionals at every stage of their careers. ASHP's continued success is his enduring legacy.
I hope everyone will take a moment to visit the tribute section on this website. We are currently seeking additional stories of members' experiences with Dr. Oddis, and any images you may wish to share. AJHP is also working on an entire issue that will be dedicated to Dr. Oddis's life, and reflections on his many contributions to be published later this year. These are just a few examples of the many ways we will honor his legacy in the coming days, weeks, and months.
Our thoughts remain with the Oddis family during this difficult time, and with the many people who knew and loved him around the world.
Thank you, as always, for everything you do for patients, ASHP, and our profession.
Sincerely,
Paul